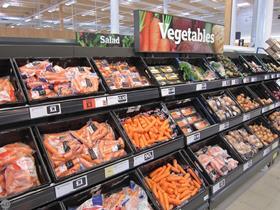 Sainsbury's has pledged to end the use of dark-coloured plastics across its fresh food products by the end of 2019 in a bid to make its packing easier to recycle.
The announcement, which extends to a ban on dark plastics across all products by March 2020, is part of a series of measures taken by the retailer to make its packaging more sustainable.
The supermarket chain is also introducing 'pre-cycle' areas for customers to remove unwanted primary and secondary packaging in store and leave it for recycling, as well as pledging to remove hard-to-recycle plastics (such as polystyrene and PVC) across all stores by the end of 2019.
In terms of measures directly affecting the fresh produce aisle, Sainsbury's has also committed to replacing all fruit and vegetable packaging with recycled alternatives by the end of 2020 and removing plastic packaging from its sweetheart and savoy cabbages, cutting a further 100 tonnes of plastic packaging over the next year.
This will ensure food remains protected through the supply chain, but customers will have the option to recycle before they take their items home.
Sainsbury's said it has previously implemented measures that are already cutting the use of non-recyclable plastic and so-called "virgin plastic" by over 8,000t a year.
Over the next twelve months, the retailer claims it will remove a further1,280tof plastic from products and ensure all plastic packaging is reusable, recyclable or compostable by 2025.
This is the first time that the supermarket shain has set out in detail where plastic is being completely removed, where plastic is being reduced, and where non-recyclable plastic is being replaced with recyclable alternatives.
Sainsbury's chief executive Mike Coupe said:"We are serious about reducing plastic. For many years, Sainsbury's has prioritised sustainability and sought innovative solutions to reduce plastic packaging and increase recycling.
"Today's announcements show what we have already achieved and demonstrate our firm commitments for the future to make significant reductions in plastic use."
Previous measures taken by the retailer to reduce plastic use in fruits and vegetables include removing plastic packaging from cauliflowers, organic bananas, easy peelers, brassicas and tomatoes, reducing usage by 131t a year.
In addition, plastic packaging on organic avocados has been replaced with a fully recyclable alternative, saving eight tonnes of plastic waste annually, and plastic trays on selected flower products have been replaced with wooden trays, saving five tonnes.