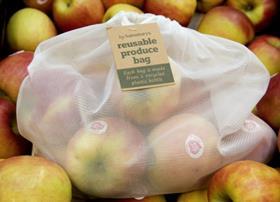 Sainsbury's has outlined further commitments to tackling plastic waste, pledging to halve the amount of plastic in its stores by 2025.
The retailer, which uses almost 120,000 tonnes of plastic a year, said it would reduce plastic packaging on all branded and own-brand food products, as well as a range of other products across its operations.
Following research on its plastic footprint, there will be a particular focus on plastic milk bottles, packaging for fruit and vegetables, fizzy drinks, water and fruit juices.
Sainsbury's CEO Mike Coupe said:"We have set ourselves a bold ambition because we understand that we urgently need to reduce our impact on the planet and to help drive change across our industry.
"Reducing plastic and packaging is not easy. Packaging plays a vital role in keeping our food safe and fresh and minimising food waste. We must therefore find alternatives to plastic that protect the quality of our food while minimising our impact on the environment.
"We can't do this on our own and we will be asking our suppliers and our customers to work with us to help us make this important change."
The announcement follows a previousSainsbury's pledge in Mayto end the use of dark-coloured plastics across its fresh food products, remove thousands of tonnes of non-recyclable plastic from packaging and ensure all its plastic packaging is reusable, recyclable or compostable by 2025.
To meet the new goal, Sainsbury's said it would "accelerate change" in switching to alternative materials, using lighter-weight plastics and introducing refillable packaging at scale.
It reported that it had already made some progress in plastic reduction, reducing its use of plastic packaging by one per cent in 2018.
Some of these alternatives will require customers to change their behaviour, Sainsbury's said – for example, plastic milk bottles are currently one of largest sources of plastic packaging.
The retailer is also reviewing alternative options including the introduction of refillable bottles, introducing returnable milk bottles or offering a reusable jug with milk in a lightweight plastic pouch.
Defra secretary Theresa Villiers said:"I commend the leadership shown by Sainsbury's and their efforts to introduce new industry-wide standards and reporting, ensuring that our environment is protected for future generations.
"This is a brilliant example of the integral role business has to play in cutting plastic waste, empowering consumers to make more sustainable choices."
To achieve its ambition, Sainsbury's said it would explore new ways to collaborate with food manufacturers, packaging suppliers, raw material scientists and other retailers, alongside the waste and recycling industry.
And to kickstart this collaboration, the supermarket co-hosted a summit with the Natural Environment Research Council (NERC) on 13 September, bringing together branded suppliers, researchers and government stakeholders to identify potential projects and innovations.

Sainsbury's has also opened anarea on its websitefor customers, colleagues, manufacturers, entrepreneurs and other interested parties to submit ideas to help reduce plastic packaging.
The retailer will work with Greenpeace on this commitment and will report publicly on progress every six months.