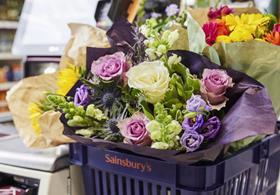 Sainsbury's has become the first major retailer to significantly reduce the plastic packaging on its fresh flowers as it launches a trial of recycled paper.
A 12-week trial will run in 167 Sainsbury's stores, with plastic sleeves being removed from more than a million fresh floral bunches and bouquets.
The plastic packaging will be replaced with recyclable paper packaging, saving over 10 tonnes of plastic. The sticky tape used to secure the wrapping will also be replaced with recyclable paper tape.
Sainsbury's said the move marks another step towards achieving its pledge to halve its use of plastic by 2025 across all its food operations.
The retailer added that it had worked with its suppliers to ensure paper wrapping is introduced at the point of manufacture, rather than plastic wrapping being removed from the flowers and then replaced with paper.
Judith Batchelar, director of Sainsbury's Brand, said:"Our customers have made it clear that they want us to reduce plastic packaging.
"This initiative is very much a testing and learning activity for us, so we will be seeking feedback from customers as well as getting a better understanding of how our supply chain manages the new packaging throughout.
"This latest trial supports our broader goal of reducing, reusing, replacing and recycling more plastic."
Sainsbury's will closely monitor the supply chain process and customer feedback over the next 12 weeks to assess the overall performance of the trial before making a decision on next steps.
The trial, which will run into December, follows arange of other initiativesto reduce, reuse, replace and recycle more plastic.
Sainsbury's is also working alongside government and other businesses to support research into sustainable alternatives to plastic.