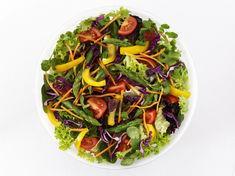 The reappearance of sun in the past week will be welcomed by the salad industry after a year of ups and downs. But despite the weather's shortcomings, the category has held up surprisingly well with a 4.4 per cent (£67.4 million) climb in value and a 1.8 per cent (11,300 tonnes) rise in overall volume.
At Good Natured, which reports salad sales up 32 per cent in both volume and value over the last year, account manager James Miller believes positive press has helped boost demand. "The Olympics, as well as an increased awareness of obesity issues, have led to the press focusing more on healthy eating, which has certainly been a driver for the category," he says. "Consumers are more conscious of the ingredients in their food and are turning more to natural, rather than processed, products. Strategic retail promotions have also helped the volume increase."
Retailers have performed solidly, with Sainsbury's still outperforming its grocery share of 15 per cent with a 16.6 per cent share of overall salad sales. Buyer James Connaughton has seen increased demand for prepped salads over the last 12 months.
"One of the biggest indicators of changing eating habits in this area is the growth of salad bowls, which are 30 per cent up year on year."
In May the supermarket launched its own prepared salads range. "We continue to see strong growth in prepared salads, particularly from younger customers, so the key is to keep refreshing the range and introducing newness to the category," adds Connaughton.
Waitrose also reports a positive year. Salad buyer Richard Bickerton says maintaining a strong relationship with suppliers has been key and believes introducing new varieties to an over-saturated salad market is a must in order to stand out from the crowd. "Our team is constantly working to bring variety into the category to keep it interesting for our customers; we have just listed the bagged salad Padron Pepper brand which is currently exclusive to us and will spice things up a bit."
Bagged-salad giant Florette has echoed the two retailers' praise of prepared-salad sales. "Our Sweet Crispy mix, which launched at the beginning of the season, has delivered a 26 per cent increase in sales where it is listed alongside established brands such as Florette Classic Crispy," says commercial director Sandy Sewell.
"In addition, our Duo range has delivered £3 million worth of incremental sales to the category; despite the weather there is still a big demand for salads."
Despite an apparently positive outlook across the board, the rainy weather has undoubtedly dampened consumer buying habits as there were 5.7 billion consumption occasions that featured salad vegetables last year, a drop of 1.3 per cent. Florette admits the poor weather has made overall category growth difficult but says its own growth is 11.6 per cent year on year.
Waitrose's Bickerton believes maintaining support for growers during bad spells of weather is crucial. "We will always source from Britain when products are in season and at the peak of freshness and flavour.
"We have recently announced that we are changing our specifications for produce affected by the recent bad weather so we will still sell great-tasting produce even if it's cosmetically imperfect in order to support growers."
Sainsbury's believes the salad category now transcends the bad weather and it doesn't just need to be hot outside in order for shoppers to eat fresh.
"The demand for salad is as strong as ever; salads are no longer a weather-dictated meal," Connaughton says.
Organic tomatoes have performed well for Good Natured, with its pesticide-free Tantalising Tomatoes range a hit with shoppers. Miller explains: "Our Tantalising Tomatoes have been a star performer despite the poor weather at the start to the summer and lack of BBQ weekends."
Miller believes there is an increasing demand for organic produce and encourages the rest of the industry to take note. -
EXPANDING THE SALAD BOWL
Salads don't just have to include lettuce, tomatoes and cucumbers, and producers of other crops are keen to get salad fans thinking more about their products, writes Thomas Hobbs
hile herbs and avocados may not be synonymous with salads, producers of both are eyeing the opportunity to get consumers including them on their plates.
The Fresh Herb Company believes its new unique range of 'roots on' herbs could become an essential salad ingredient.
The Fresh For Longer range is said to be the first-ever 'roots on' format to be sold in UK supermarkets and the range, which recently launched in selected Tesco stores, consists of four types of herbs: basil, coriander, flat leaf parsley and dill.
"The herbs all make particularly convenient additions to a salad and can be simply tossed into a mixed salad, couscous or pasta to liven up a quick and healthy meal," says Ann Tenison, marketing manager at The Fresh Herb Company.
Once purchased, the British-grown Fresher for Longer herbs can be kept in the pack with tap water added to the root and because the herbs are harvested with the root plug still intact and therefore already living, Tenison says they have a longer shelf life and will help customers to reduce waste.
The packaging is 100 per cent home recyclable and resealable and is designed to provide better protection to the herbs. "Since their introduction in the 1990s, fresh herbs have become commonplace in household kitchens. With the roots still intact, the Fresher for Longer range offers a new way for people to enjoy herbs with maximum freshness," concludes Tenison.
Meanwhile on the avocado front, sales have climbed and the hot weather of the last week has seen demand soar. "In the two weeks running up to the Jubilee weekend, we saw an increase in avocado sales of approximately 40 per cent compared with the average for the previous four or five weeks as people ate plenty of salads," said Mark Everett, product manager at Worldwide Fruit.
"Since then, sales have remained fairly strong in the UK with demand for the fruit currently higher than supply. In the wholesale markets, this has lifted prices."
With an annual penetration for avocados of just 25 per cent in the UK, the Peruvian Hass Avocado Association (ProHass) believes there is plenty of opportunity for growth and wants to establish avocados in the same vein as the tomato as a key salad item.
The ProHass summer campaign is currently encouraging new consumers to try avocados. A tasting campaign has launched in UK supermarkets and a nationwide competition has started for UK sandwich shops to encourage them to include avocado on their menus. "Our campaign will aim to engage with shoppers to make them aware of the versatility of avocados, especially within meals such as salads," concludes ProHass general manager Arturo Medina Castro. -