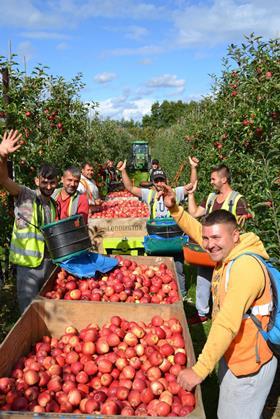 The Seasonal Workers Pilot has been extended and expanded for an additional year, with 30,000 visas available for those wanting to work on UK farms for up to six months.
The news, announced just before Christmas, has come as a relief to growers who warned of crops left rotting in fields due to worker shortages post-Brexit.
The government said the expansion of the scheme followed a long period of close working with the National Farmers Unions and the Association of Labour Providers (ALP), across all parts of the UK. It added that there was particular recognition of the need for additional seasonal labour in Scotland to support local rural economies and soft-fruit growers.
The government also said it will work alongside industry to build on this year's Pick for Britain campaign and actively promote the recruitment and retention of domestic seasonal workers in 2021.
Alongside the Seasonal Workers Pilot, Defra will lead a review into automation in horticulture, to begin in early 2021. The review will report on ways to increase automation in the sector and meet the government's aim of reducing the need for migrant seasonal labour.
Environment secretary George Eustice said: 'We will always back our farmers and growers, who work hard all year round to provide us with a secure supply of fruit and vegetables.
'The measures announced today will provide vital labour, both domestic and from abroad, to our farmers and growers to help gather the 2021 harvest to feed the nation. Our review into automation will pave the way for a pioneering and efficient future for our fruit and vegetable growers.'
NFU Scotland president Andrew McCornick welcomed the announcement. 'The significant upscale of the Seasonal Worker Scheme from 10,000 to 30,000 permits has been hard won,' he said. 'Following close and supportive dialogue with government and MPs, NFU Scotland welcomes this increase on the understanding that the EU Settlement Scheme will allow workers who have undertaken work on Scottish horticulture farms prior to 2021 to return.
'And following the major, industry-led effort to recruit domestic workers during the 2020 pandemic, growers will continue to utilise all tools to encourage as much recruitment from within the UK as possible in 2021.'
A recent ALP survey found 70 per cent of growers and manufacturers saying they expected their business to struggle or be in crisis when it comes to recruiting lower-skilled labour in 2021.
'The pandemic has shown the vital role of food workers in keeping our nations fed,' said chief executive David Camp. 'ALP has made a strong case that, where the evidence demonstrates, there should be limited immigration of key workers into essential sectors. As such, ALP welcomes the government's decision to allow immigration of seasonal workers for edible horticulture by GLAA licensed labour providers in 2021.'

Ali Capper, executive chair of British Apples and Pears, also welcomed the news but called for the scheme to be expanded further. She said: 'We welcome the recent expansion of the Seasonal Workers Pilot. It's a very positive step towards ensuring we have the labour we need in the coming season. The Government's support of the Britishapple and pear industry is critical as we work hard to contribute positively towards our nation's health and the economy.
'Our growers were very concerned about being able to secure enough seasonal workers to grow, pick and pack our fresh fruit next year, however the expansion of this scheme goes a long way toreassure them.

"That being said, there remains more work to be done. The expansion of this scheme makes 30,000 visas available, however British horticulture sector requires around 70,000 seasonalworkers over the year across 300 different types of fruit and veg. We look forward to continued government engagement to assess and respond to the needs of the sector.'