Drastic shipping restrictions hit drought-stricken Panama Canal. Expect price rises, warns ParcelHero
The worst drought for 70 years has hit the Panama Canal, forcing strict new regulations that slash the capacity of some containerships by 40 per cent and will likely increase the price of UK-US goods, warns the international delivery expert ParcelHero.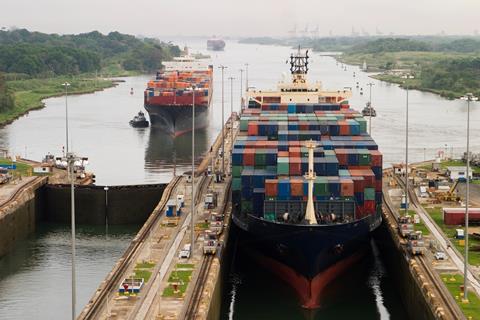 The Panama Canal, a vital trade route linking the Atlantic and the Pacific, is running low on water. The Panama Canal Company says it has been hit by the worst drought since 1950. As a result, it's imposing strict new restrictions on vessels using the canal from today (13 June).
The amount of containers and commodities ships can carry on the canal will be reduced. Normally, when there is plenty of water, the maximum draught limit for ships using the canal is 50ft (15.24m). Because of the drought, the canal is already operating a maximum draught of 44.5ft (13.56m) but, from today, the limit is being slashed to 44ft (13.41m).
The international delivery expert ParcelHero says this will hit UK-US container traffic, as goods travelling between the US West Coast and Europe must use either the 48-mile (77km) long canal or take the notorious and lengthy alternative route around Cape Horn.
ParcelHero's Head of consumer research, David Jinks,said: "The drastic new draught restrictions will reduce the volume of cargo that the largest, neo-panamax, container vessels can carry through this key waterway by up to 40 per cent. That means cargo will have to be distributed among more ships, and that comes at a cost. Already, several carriers using this route have hoisted their rates by between $300-500 per container to cover their increased costs. Ultimately, that means a spike in the price of consumer and industrial goods.
"And the bad news doesn't stop there. The Panamanian Government has declared a climate emergency. Water levels there could fall to 78.2ft by late July, overtaking all previous records. If that happens, the Panama Canal Company says it will have to limit the daily number of vessels using the route from 36 to as few as 28. It requires 200 million litres of water to flow down tiered locks into the sea to allow the passage of a single vessel along the canal. Water that is largely generated from Lake Gatun in the centre of the waterway, which is drying-up fast. With this in mind, it's expected that the maximum authorised draught will be reduced still further, to 43.5ft (13.26m) on 25 June."