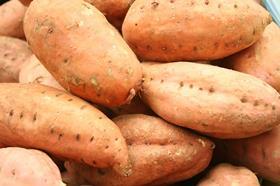 Extreme weather conditions in the US last autumn are reported to have had a major impact on sweet potato supply and prices. How badly was the sector affected?
KD:Hurricane Florence hit North Carolina in early September last year. The timing couldn't have been worse as the whole year's supply rests on a short harvest window in the autumn months. Growers had only lifted five per cent of the total crop when the storm hit so you can imagine the catastrophic effect this had on supply.
There was widespread flooding with over 25 inches of rainfall in some areas. The total loss of crop was 40 per cent, which is unprecedented. Apart from the devastating effects of the hurricane, plantings in North Carolina were down from previous years. A number of farmers sought out alternative crops due to unsustainably low raw material prices, which resulted in serious financial difficulty for growers and some bankruptcies.
The outcome of all this was a sharp increase in the market price, which at one point had more than doubled year on year. Strong demand from the US and European markets fuelled the increase further as these markets sell sweet potatoes at a higher price point than we do in the UK. With its rise in popularity and subsequent commoditisation, it has fallen victim to the retail price wars. A hand-harvested premium imported product, sweet potato is now benchmarked on price against UK-produced white potatoes that undergo a fully mechanised production process.
Most US inventories eventually ran short by late spring, resulting in limited supply. Plantings in Egypt were scaled up to cover the gap this summer, but their season started late and volumes were initially very limited. It was the perfect storm – a cold winter followed by late planting which led to low tuberisation. Some Egyptian growers harvested too small under the pressure to supply, which resulted in further loss of yield.
There were reports of sweet potato shortages hitting the UK in August. How serious were these?
KD:The shortages here in the UK were most severe in August as by this point there was virtually no US crop left and the industry was almost fully reliant on Egyptian supply. Retailers reduced their distribution and limited store ranging in line with availability. A number of companies offered their shoppers alternative products such as white-flesh sweet potato.
Volumes have since improved and you will start to see sweet potatoes on most supermarket shelves now that Egypt and Spain are fully in production. Speciality sizes are still a challenge, and everyone has had to be open with specifications to ensure volumes are maximised coming out of this difficult period.
How are growing conditions looking so far this year in your sweet potato sourcing regions?
KD: We all held our breath a couple weeks ago when Hurricane Dorian made its way across the Atlantic, causing widespread destruction in the Bahamas. It then ran its course across the east coast of the US towards North Carolina. Fortunately for the sweet potatoes, it did not cause any lasting damage and actually brought with it some much-needed precipitation.
The harvest season is still under way in the US. All we need is stable weather between now and November and I'm positive we will have a fantastic season next year. Egypt is on track with harvest, and with packing now fully underway, they have had more time to cure the potatoes and get on top of inventory; their season will finish in December. Spanish production is also coming along nicely, with growers harvesting under clear skies and in warm temperatures.
The UK sweet potato category has been in slight decline for the past couple of years, according to Kantar, following a period of strong growth. What do you think has caused this and what scope do you see for renewed growth?
RC:Lack of availability has had a significant impact due to prolonged periods of time when sweet potatoes simply weren't on the shelf in UK retailers. This led customers to switch up their shopping habits and find other alternatives, such as squash and white-flesh sweet potatoes. Consumption was also beginning to hit natural saturation, with an increasing number of products being introduced that have sweet potato as the key ingredient.
That said, sweet potatoes' versatility and health benefits set them apart in the veg world and with availability becoming more abundant, and the consistent trialling of new varieties, renewed growth is definitely possible.
What trends are you seeing in the sweet potato category at the moment?
RC:With the vegan trend now fully established and gaining further momentum on the foodie scene, many manufacturers are seeking vegan-friendly alternatives when it comes to colouring food, and sweet potato offers a natural red base as opposed to a synthetic option. As a result, it is an attractive prospect in pastries and cakes, along with the more commonly known baby foods, ready meals and flours. It has also become a favoured breakfast option; sliced thinly, it toasts really well; and as a puree it can be incorporated in savoury muffins and waffles.
What investments and varietal development have there been lately?
KD:Investment in curing, packing and storage are all key, and we are seeing more non-US origins consider these prospects more seriously. Take Egypt and Spain for example – they have come a long way from five years ago. They are more focused on selecting the right planting material and following through with the right harvest and production processes.
We are trialling new varieties with a number of our growers across the globe. It's always interesting to see which varieties provide the best results – the same variety does not necessarily produce the same results when planted in different regions. Soil type, nutrition and weather conditions are also instrumental in producing a top-quality sweet potato.
How about NPD?
RC:The traditional prepared lines in white potato – wedges, chips and mash – have successfully converted to orange-flesh equivalents, gaining a loyal following among consumers and becoming a familiar option in restaurants and foodservice chains.
The frozen market has witnessed a strong resurgence and shed its old-fashioned image, with big brands offering exciting new flavours in innovative packaging. This has generally helped to increase the awareness of sweet potatoes and their versatility when it comes to cooking. The fresh prepared options are often healthier simply due to their reduced ingredient list with no pre-cooking.
Sweet potato remains part of our core portfolio and often features in our prepared submissions. Our development aim is to let the focal ingredients be the star of the show and only add to what will further enhance the eating experience.