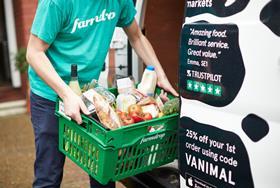 Farmdrop, a home delivery service for independent producers, has gone bankrupt, leaving small suppliers, customers, staff and investors in the lurch just before Christmas.
Twitter was awash with comments about the news with customers disappointed to hear that their Christmas orders had been cancelled and angry at reports that small producers had been continuing to deliver large volumes to Farmdrop right up until yesterday with no warning that the business was about to go bust.
There were also expressions of sadness that a business set up to help small, independent and organic producers reach retail customers had folded.
Founded by former Morgan Stanley equity specialist Ben Pugh in 2012, the business delivered food in the London area, sourced from more than 450 producers.
In an email sent on the morning of Friday 17 December, the company informed customers that it had shut down, saying it had been "working constantly" over the last 18 months to secure the capital it needed to continue.
Despite more than doubling its revenue from £5.4 million in the 12 months to 30 June 2019 to £11.8m the year after, the company made huge pre-tax losses of over £20m across the two years.
The online grocery start-up was backed by the Zoopla founder Alex Chesterman and the Duke of Westminster, and according to Crunchbase, had raised more than $40m in capital.

Unpaid invoices
Single Variety Co, a fruit preserve and chilli jam business in Bristol, is one of the companies claiming to be owed money by Farmdrop, which it says has been ignoring them for weeks.
"Farmdrop, you owe us over £2,000 in unpaid invoices dating back to August," said the company's founder Nicola Simons in a video on Instagram. "On your website you claim to support local, independent suppliers but by failing to pay us you are doing the exact opposite."
Simons claims to have sent over 30 unreplied emails requesting payment or information.
Another supplier, Alfonso Picaro of New Covent Garden supplier La Sovrana says Farmdrop chased him for months to become a supplier and then just two weeks into the supply relationship, after four big deliveries, the company folded. His business, a supplier of 21 different Italian fruits and vegetables to Farmdrop, has yet to be paid.

Left in the lurch
When it comes to meat products, a Dorset charcuterie business called The Real Cure, says it made a delivery worth £16,000 to Farmdrop on the eve of the company going bankrupt, with no indication this was about to happen.
Rob Ward, an agri-food tech business developer and former strawberry grower from Shropshire, is the brother of The Real Cure's founder James Smart.
He accused Farmdrop of "being run very badly" and said The Real Cure was already owed £4,000 prior to the recent £16,000 delivery.
"Clearly, they were completely out of money, and once you can't pay employees, you're in trouble, but to take these orders on for Christmas and then shut the business… I think it's extremely questionable what they've done," said Ward.
"They made some big claims, and they had good intentions, but they didn't actually innovate. They pretended to be a food tech business with a higher level of multiples and therefore funding, but in reality, it was just a badly run food retail business."

Questionable model
Ward questioned the company's model of offering lots of products – but not everything you would need for a weekly shop – and operating at low margins. Firstly, it isn't convenient because it takes time to browse the products, with customers still needing to shop for other products elsewhere, and secondly, it is expensive to pick and deliver individual orders in this way.
A more cost-effective and convenient model for delivering small producers' goods, he suggested, is to offer set boxes of produce in the mould of one of the box delivery schemes.
The lesson in business, he said, is not to be too reliant on one channel, and he stressed that online deliveries need to be profitable.

Nightmare before Christmas
In the short term, the consequences of Farmdrop's bankruptcy for small producers are very serious, with fears that food delivered to Farmdrop but not sent on to people's homes will be unsaleable, either because it has been produced and packed specifically for Farmdrop or because time is running out before Christmas.
There have been reports of producers going down to the Farmdrop depot to retrieve produce and not being able to get in because it is locked, and nobody is there.
James Lamming, founder of Tend, another platform delivering products from small-scale producers to people's homes, said:"Farmdrop were doing great things for farmers, and we need more companies like them trying to build a better, more sustainable food system. Unfortunately, the way it ended wasn't great and many suppliers and customers have been left in limbo, but this shouldn't stop people from trying to order direct from farmers and independent producers through other platforms.
"We need to support companies like this that are trying to shorten the gap between farmers and customers, ensuring farmers getting fairer prices for their food and customers get fresher, tastier and more sustainably-grown food."
Farmdrop was contacted by FPJ but was unavailable to comment.