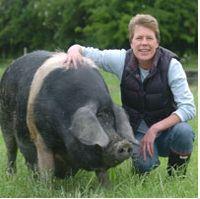 Grow Back Better, a 'route-map' to reinvigorate UK food, farming and land-use post-Covid-19, launches today (9 November 2020) from the Soil Association.
The organic farming charity says its Grow Back Better report advocates a response to the climate, nature and health crises that is as radical and rapid as the response to Covid-19 has been. It also warns the wrong "green recovery" choices from policy makers, could lock the UK into damaging directions of travel in food, farming and land-use.
Helen Browning, chief executive of the Soil Association said: "It feels to me as if the coronavirus pandemic is nature giving humanity one last chance to stop, take stock and to set a new course. Our Grow Back Better road map sets out the urgent tasks ahead of us all to ensure food, farming and land use becomes a major part of the solution, rather than the huge problem it is often perceived as.
'We know there is an appetite for change amongst citizens, farmers and many businesses, but the wrong choices by policy makers at this moment could lock us into damaging directions of travel. It's a make or break moment. We are clear where we need to get to; we just need the right government support to get us there."

The Grow Back Better manifesto details ten priorities, including a bid to scale up fruit, veg, pulses and nut production by investing in UK horticulture; and to exceed Europe's ambition to halve pesticide use and grow organic farming to 25 per cent of farmed land by 2030.
The manifesto also warns that policy 'lock-ins' must be avoided. 'During Covid-19 recovery, the wrong choices from policy makers could lock us into damaging directions of travel in food, farming and land-use,' it says.

Browning continues; "It is widely acknowledged that this decade is crucial for humanity, and that farmers and land managers have a pivotal role to play. It's no longer enough to have islands of good practice; all of food and farming, in its many forms, shapes and sizes, must work together to meet the challenges ahead, and be supported to do so."
The Soil Association was founded in 1946 by farmers, scientists, doctors and nutritionists to promote the connection between the health of the soil, food, animals, people and the environment. Today the Soil Association is the UK's leading membership charity campaigning for healthy, humane and sustainable food, farming and land use.