Elsoms believes Soraya, the first seed-raised strawberry variety specifically bred for winter production in Britain, could be a game changer for UK producers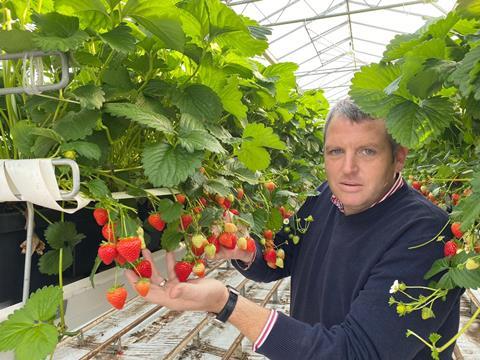 Better taste, lower carbon footprint than imports, and more reliable disease-free growing are among the advantages of Elsoms' new F1 hybrid strawberry variety Soraya, according to the company's crop specialist Claire Taylor.
Specifically bred for both summer and winter production with "particularly strong performance" under LED lights, the variety has "performed consistently well over three years of trials and is now proving itself commercially", she said.
"Soraya is potentially one of the most important developments in British strawberry growing for many years," Taylor claimed. "Latest Defra figures show the UK imports around 65,000 tonnes of strawberries every year worth £214m with the majority of these brought in outside of the traditional strawberry production period.
"Conventionally grown strawberries are usually available from June to July with the introduction of everbearers extending this from March and into the autumn, but with Soraya production it can now be genuinely all year round.
"Furthermore, consumer testing has shown they are manifestly preferable to UK tastes than most imported varieties, being sweet bright red berries in the classic British strawberry style.
"With imported strawberries often coming from over 2,000 miles away, British winter-grown strawberries have reduced food miles and a lower carbon footprint, particularly when rainwater harvesting, and renewable energy systems are used in their production."
Consumers, retailers, and policy makers are becoming increasingly sensitive to such issues, she added. "A key goal of the Government's recently announced National Food Strategy is a significant increase in the domestic production of fruit and vegetables plus there are growing concerns over food security and reliance on exports. So, taking all this into account, Soraya is a great example of how genetics can contribute to more sustainable food production in the future."
Anglo-Dutch partnership
Elsoms, which has 30 years' experience in vegetable breeding, developed the variety in partnership with Dutch strawberry experts ABZ Seeds.
Taylor said Elsoms has been interested in strawberries for several years, "so when the opportunity arose to partner with ABZ, who work exclusively with strawberries and are so passionate about them, we knew our combined knowledge and resources could achieve something really special".
So far, the partnership between the two breeders has delivered exclusive rights to three varieties: Estavana for outdoor gutter production, Rowena for open field production, and Soraya for glasshouse production.
"Soraya is a Fragaria x ananassa cross producing very sweet, flavoursome and firm fruit which excels in a traditionally timed production regime but when sown from July to August will produce fruit for harvest mid-October to the end of March," Taylor explained. "It's a high yielder producing up to 1.75kg/plant with an average fruit size of 16-35g and a Brix of 8-11."
F1 quality
While the advanced genetics of the variety underpin its significant commercial potential, the fact that all plants are grown from F1 hybrid seed also makes a big difference, Taylor said.
"Vegetative propagation using runners is the most common way to grow strawberries, but all our varieties are grown from high quality F1 seed and this has major advantages.
"For a start, the logistics of shipping seeds are simpler than those for shipping fresh plant material as with runners, especially in the wake of Brexit which has increased the complexity of imports into the UK.
"With fresh plants, every additional day at port due to phytosanitary certification or administration delays can cause undue stress to plants and increase mortality rates."
"In contrast, we import seed, not runners, and then grow this in the UK and deliver it straight to the growers. The end result is growers are starting with clean plant material in robust health with much greater resilience so not only does it establish better, but it also ultimately produces more consistent yields and good quality fruit.
"The carbon footprint is much lower too, plus with young plants ready for planting after only 12 weeks from being sown, growers can benefit from greater flexibility around season planning.
"Our other varieties, Estavana and Rowena, are grown from F1 seed in this way and we're convinced it's a major factor in their superior performance."
Last winter three UK multiples supplied Soraya, and Taylor said the response had been "really encouraging from retailers and consumers alike", adding that there's now a "real opportunity for UK growers to take a slice of the large strawberry import market".
Somerset grower taps into year-round potential
One grower excited about the potential of British winter-grown strawberries is Somerset producer John Downes.
His 18-hectare Global Berry business based in Somerset and Lincolnshire now supplies up to 12 tonnes of strawberries a week to retail multiples from December to March, so keeping production going throughout the year opens up significant opportunities for his business, Downes said.
"Soraya is letting us compete at a price point similar to imported strawberries and get high quality British-grown fruit into the main supermarkets during the winter when this has not been possible before."
He added: "I think the need to be more self-contained in our own food production has been more than shown by the events of recent months and more crops we can grow in the UK the better.
"Not only does it cut down on food miles, it makes us less dependent on imports and the traceability systems we have in the UK are second to none so we know exactly how our food has been produced and where it has come from.
"We use energy efficient LED lights November to March, extending our day length in the winter months to give the plants the required amount of light to keep the strawberries producing. The system works by supplementing existing light levels with the lights only on when they are needed.
"We're also introducing a 5-megawatt biomass boiler for heat at our Bradon site, so all together I am confident our carbon footprint of production will be well below that of strawberries imported from Egypt, Morocco and even Spain."
Although the technology goes a long way to making winter production of strawberries viable, he also stressed that the variety has to be right.
"What we like about Soraya is it was bred to be used under lights," he said. "We want consistent volume and quality in production December to March and as our initial trials have shown, Soraya can deliver both volume and quality consistently through this period."