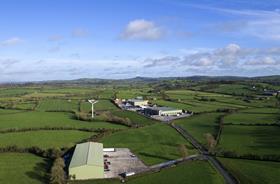 The Irish actor Liam Neeson reportedly once said of his home country's penchant for stews: "Just throw a lot of carrots and onions in there, and I'll call it dinner."
The Schindler's List star essentially hit the nail on the head – fresh produce plays a fundamental role in Irish cuisine.
While the Irish food market and consumer trends bear similar traits to those in the UK, there are some differences, most of which stem from the strong sense of national identity harboured in the so-called Emerald Isle – a place which hasn't had it easy since the 2008 economic downturn.
Mike Neary, horticulture manager at Bord Bia, a state agency tasked with promoting sales of Irish food at home and abroad, says: "Horticulture is challenging, but we have a very resilient group of growers and industry.
"We've seen a lot of consolidation – we've got fewer growers, but bigger growers. There's a lot more investment at grower level to boost efficiencies, as you have to build scale. It would have happened anyway, but the economic crash did feed into the mix."
"One of the trends of this downturn, though, has been the affiliation to 'local', and people wanting to support local producers. What we've got to be careful of is that very often when people walk into a supermarket, they assume produce is local. So we need to put the message in front of people.
"A lot of the population, a million-plus, are living in Dublin or the main urban areas. They've had to move there, and a large number come from rural agricultural backgrounds, where there is still that affiliation or link back. And the local produce idea, 'it's Irish', 'it has the grower on the packet' – that resonates."
Stephen Allen, head of marketing at Irish mushroom giant Monaghan Mushrooms, backs Neary up on this, and notes: "There's a very strong provenance and local trend in Ireland, and this is something that's becoming more keenly felt.
"Good food is really important to the Irish people and families – Ireland is the food island. And the Irish are willing to pay for locally-produced products that deliver their needs."
According to Allen, the Irish market is becoming more competitive, in a similar vein to the UK retail scene. However, in Ireland, the discounters – who aren't referred to by this collective name – developed a lot quicker than they did in the UK: "Ten to 12 years ago, the market share of the discounters was higher in Ireland than it was in the UK," Allen says. "But the level of their growth has definitely moved up a notch in the last several years, and other retailers have had to step up their game."
Neary adds: "You've got a very competitive retail market here, with a small number of retailers and a market of about 4.5 million people. I'd say per head of population, we have as many supermarket outlets here as any country.
"They are all competing, and so they're all looking to get consumers through the door. And if you look at the most purchased items here in Ireland, number one and two, before wine, before meat, is fruit and veg. It's the target to get people in the door. So that has put pressure from a competitive perspective."
With the Irish economy on the mend, there are now more people in work, and so convenience is becoming more of a driver for fresh produce sales in Ireland.
Eleanor Meade, business operations manager at Meade Potato Company, one of Ireland's largest fresh fruit and vegetable suppliers, tells FPJ: "It's now all about convenience – many people do not have time anymore, it is of the essence.
"One successful product we have brought to market is microwaveable baby potatoes, which cook in six minutes. Fruit convenience packs are another key area we are looking at – aimed at making it easier and more appealing for children to eat more fruit."
Ultimately, be it in County Donegal or County Durham, suppliers and retailers have to innovate to get and stay ahead.
Neary says: "Value, local and the health elements of the produce are key drivers and consumer trends. But we've seen a bit more innovation around fresh produce too. There's a lot of innovation on new product presentations, particularly with prepared produce. These products have a lot of traction right now. People want the health benefits and the convenience element. So adding value is very important."
Monaghan Mushrooms, to take one example, has just launched a pack of mushrooms which gives consumers 100 per cent of their vitamin D allowance in a single portion.
Rodney Kingston, sales and procurement manager for fruit at Meade, adds: "Innovation is key, and you can never rest on your laurels in this industry. The products will mostly remain the same – look at the menu on the Titanic, the meals are pretty much the same as we eat today. But the presentation will always change.
"Packaging has become a vital part of the product. It's how you engage with consumers. They are getting more adventurous, and packaging gives us the chance to offer guidance on not only how to cook the product, but how to prepare it and store it."
As has also been the case in the UK, Ireland has seen a drop-off in potato consumption.
Sales are down 40 per cent compared to previous years, Bord Bia figures show, and the state agency has teamed up with its UK equivalent, AHDB Potatoes, to share a pool of EU funding earmarked for three years of potato marketing.
Part of the funding has also come through the Irish Potato Federation, which represents the majority of Irish merchants and packers, as well as potato growers.
Eve Nolan, marketing co-ordinator at Irish-based IPM Potato Group, one of the international leaders in seed potato variety innovation, production and marketing, says: "Consumption of fresh potatoes in Ireland has, for a long number of years, been in serious decline, no different to other developed societies in western Europe. Irish consumers still love their spuds, it's just that eating habits have changed so much.
"In many cases potatoes are considered an ingredient of traditional meals, and one of the objectives of the campaign is to highlight the versatility of the potato, and demonstrate how it is so suitable for use in more 'modern' dishes like curries and salads.
"The salad and baby potato sector is, however, growing steadily, and the Irish potato industry is now having a serious go at supplying this sector. The majority of the product in recent times has been imported from the UK and France, but Teagasc (the agriculture and food development authority in Ireland) have now put a programme in place to help growers get equipped to grow this specialist crop."
Neary says: "The UK has the same challenge in the potato market as we do here. Female consumers, a lot of them perceive potatoes as fattening. But it's how you prepare them that could affect this. A lot of younger consumers also say they're traditional, or old fashioned, and they don't fit into modern cooking cultures where there's a lot more cuisines, tied in with people travelling a lot more, and people also want more convenience."
Meade adds: "There's a clear message that we need to get out there to tackle the perception of potatoes."
One of Neary's goals is to increase the area of potatoes being grown again: "We still have big consumers of potatoes here compared to other countries – but we also look where we are, compared to where we used to be," he says.
"Our aim over the course of the potato campaign is to grow the perception people have on potatoes by eight per cent. You don't change behaviour overnight."
Neary says Bord Bia is looking to leverage as much support as it can from the EU. At present, the help available if an application is successful is 50 per cent support in funding from the EU.
But from December this year, the support potentially available in future from the EU is 80 per cent: "This is huge," Neary says. "Absolutely huge. You only need to put up 20 per cent then. So I think we're going to see a lot more interest right across the EU on this particular regulation."
Looking to what lies ahead for Irish horticulture, Neary concludes: "We're excited. We think there's great potential. There's a lot of talk nowadays about food security, climate change, eating 5 A DAY, and so on. If you wanted a dream product to pick, fresh produce is the best you can get. I don't think we've been anywhere near good enough shouting about how good it is. So these EU campaigns are a mechanism to do that.
"We're probably on average getting about three of our 5 A DAY here. So there's work to be done there. People say it should be 6 A DAY, or 7 A DAY, but I'm not too worried about that – let's get us up to four first, then five, and we'll go from there."
Stats:
1,000+ commercial horticulture growers in Ireland
Around 500 of these arecommercial potato growers
The fresh produce market value is€1.2bn
Fruit and veg account for€500m each; potatoes for€200m
85 per cent of fresh produce is sold through the major retailers
In Ireland, these include Tesco, Dunnes, Supervalu, Aldi and Lidl
The value ofhorticulturefarm gate output in Ireland is€407m
Bord Bia aims to up that by€100m as part of its Food Wise 2025commitment