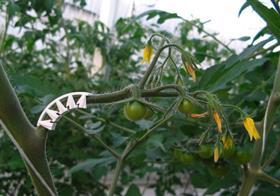 A major £6m tomato glasshouse extensionnear Ipswich is due to start next week, reports The East Anglian Times.
UK glasshouse tomato grower Sterling Suffolk expects groundwork to begin on extending its Blakenham Nursery on 26 July, adding an extra 2.7ha to the 5.4ha facility.
The company was planning to increase the footprint of its giant tomato growing operation at Great Blakenham in February or March last year. but then coronavirus struck.
The business currently employs around 70 staff, but the expansion will take that to 100.
The firm grows predominantly high-end cherry tomatoes in a range of varieties, but the next phase enables growers to move into new territory and grow some larger varieties too, the report said.
Sterling Suffolk managing director Richard Lewis, also director of the British Tomato Growers' Association, told The East Anglian Times he was hugely excited by the next stage of the business's development.
"It's going to be massive," he is quoted as saying. "When you first walk into these places they are huge — they are like glass cathedrals."
The work should be completed around mid-February of next year.