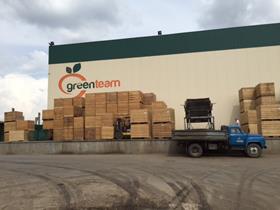 It's not often you hear this, but in fresh produce, at least, eastern Europe is apparently the place to be.
Colin Galbraith, sales and marketing director at UK-based fresh produce supplier Moorhouse & Mohan, which sells veg to several eastern European nations, has recently joined the board of a Ukraine-based fresh produce investment vehicle called The Green Team.
Initially intended to service Russia and Ukraine, the latter's changed political position and ongoing zero-import tariffs to the EU mean that The Green Team is now looking to target western Europe instead. "So long as the political situation remains as it is, Ukraine has the potential to produce an abundance of high-quality fruit and veg, particularly those requiring intense labour at very low costs," Galbraith notes.
For Stephen Taylor, MD of Kent-based Winterwood, which claims to be eastern Europe's largest blueberry grower, and the largest importer of eastern European blueberries to the UK, there's one overarching reason why UK firms have turned to eastern Europe for their produce. "Simply supply and demand – produce will be grown where it is most viable," he says. "In the case of some products, this is eastern Europe for several reasons, some of the most important being a good source of productive labour, plus cheaper costs of infrastructure compared to the West. There are also other factors, like how much businesses are encouraged to expand within their own country. The UK has a reputation for being anti-success, and not to encourage business, whereas eastern European countries are keen to help businesses looking to increase employment."
Despite this, Taylor declares himself "generally surprised" by the lack of movement to eastern European production from EU countries. He tells FPJ: "Many UK growers are coming across the issues of expanding in the UK, even if it is simply the problems of getting hold of local land at an ever-rising cost. Having a farm in another country has its own challenges, but it's not as hard as many think, and many of the challenges are much the same as running a farm 50 miles away from the base location. I think there are massive opportunities in all these countries, but in, say, 10 years' time, I think we will have still only seen a drift rather than a flood of growers going in that direction."
While Taylor admits bureaucracy is an issue, he adds: "Things are changing. Problems emanating from the transition from the communism era are gradually diminishing. Poland, for example, has changed a lot in the past decade, while countries that have historically been closer to Russia have moved more slowly."
According to Taylor, Romania and Croatia – which has "great soils and climate" – are both showing signs of expanding as production nations. On the point of eastern European markets to keep an eye on, Galbraith says: "Look at Poland, and now the rest are following. On top of that, if large retailers enter their market, then their culture and demands will change. However even if they don't, then many local retail groups in, say, Belarus and Ukraine, will start developing a consumer culture which wants quality and will pay for it."
In terms of products, Galbraith thinks we may see more UK businesses exploring salad production in eastern Europe due to the "low heating costs in many places", but admits apples "are a long way off" entering the UK market on a consistent basis, as varieties have been orientated to Russian demands. Stonefruit, meanwhile, "largely disappeared with the Crimea, so the volume that could have been significant is still going to Russia, Azerbaijan and so on."