Harper Adams University welcomes record intake of Marshal Papworth funded overseas scholarship students
A record 15 students from developing countries were welcomed to Harper Adams University this week (15 May) by vice chancellor professor Ken Sloan.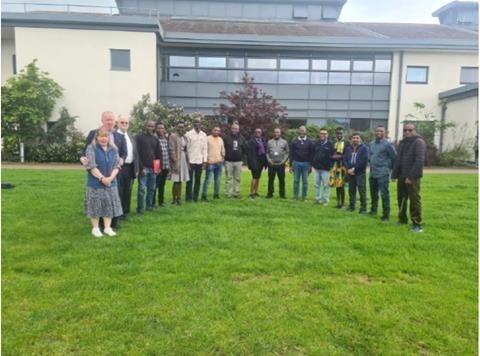 The group, from eight different nations, will start a 10-week scholarship in sustainable farming at the university, funded by agricultural development charity the Marshal Papworth Fund.
Greeting the students, Sloan said: "This is such an important programme, both to the Marshal Papworth fund, but also to Harper Adams University.
"We always had a mission to make sure we secure the future of agriculture, and the fact that we can do that by connecting people from different countries and continents is absolutely wonderful."
The students, from Burundi, Ethiopia, Ghana, India, Kenya, Rwanda, Uganda and Zambia, were selected by the charity partners of the Marshal Papworth Fund.
Sandra Lauridsen, coordinator of the Marshal Papworth Fund, said: "We work really closely with our partners in country who are able to identify lead farmers, teachers and trainers who are already so committed to helping their communities to farm more productively and sustainably, thereby ensuring that we have students on the course who are going to really take this practical farming course back and make a real difference."
The bespoke, 10-week short course developed with Harper Adams University helps students fine-tune and innovate their agricultural practices for farming sustainably and productively, and covers key themes of conservation.
The Marshal Papworth Fund provides scholarships for students from developing countries, including year-long Masters and MSc courses at leading UK agricultural universities and colleges. To date, 243 students have been educated at UK agricultural universities as part of its schemes.