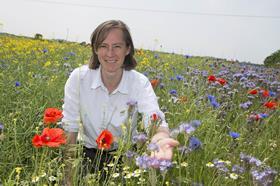 Syngenta has launched the company's new 2021 Environmental Seed Offers, with a range of subsidised seed mixes developed to provide important agronomic, economic and environmental benefits.
The options include a Bees'n'Seeds mix that combines both summer flowering pollen and nectar sources for insects, followed by prolific seed production for overwinter bird food. The mix is suitable quality for some stewardship payments.
A colourful Annual Wildflower mix is the backbone of the Syngenta Operation Pollinator initiative that is hugely attractive to pollinating insects to boost flowering crops, as well a vibrant habitat for many beneficial predators.
Thirdly, the Green Headland mix has pioneered growing a cover crop on uncropped margins around potato and vegetable fields, to protect and enhance soil structure, retain and build nutrients in the field and create a vibrant increase in biodiversity.
The highly successful concept has also proven valuable on arable field headlands and the regeneration of wider areas of uncropped land, Syngenta said.
Syngenta sustainability manager, Belinda Bailey, highlighted the mixes have all been developed to offer agronomic benefits, alongside their environmental value.
"Growers and agronomists are increasingly looking at how some of the environmental features can actually enhance the overall farm profitability and sustainability of their systems. That includes aspects such as soil health, grass weed management and pest control. All of the Syngenta Environmental Seed Offers have valuable attributes to contribute to the farm's agronomy."
The different Syngenta mixes are available at a subsidised cost from £35 to £52 per hectare pack, including delivery and accompanying grower guidelines and advice for establishment and care, subject to availability.
Syngenta Environmental Seed Offers may also be purchased through the company's loyalty scheme, Partnership Plan.
Bailey reported the different Syngenta seed mixes on offer had been put together with specialists, Kings Crops. Each of the mixes has been backed by extensive research, with partners including ASDA, Game and Wildlife Conservation Trust and the NFU's Championing the Farmed Environment.
The subsidised seed offer is available to all growers, as part of the company's Good Growth Plan and commitment to develop research-based conservation agriculture and sustainable farming systems.
Last year the Seed Offer supplied over 330 hectares of the Green Headland mix alone, sufficient to create a field margin equivalent of 3.6 meters wide from Syngenta's UK office in Cambridge, to its Global Head Quarters in Basel, Switzerland – a distance of over 900 km. In total, nearly 700 hectares of the seed mix offers were supplied.