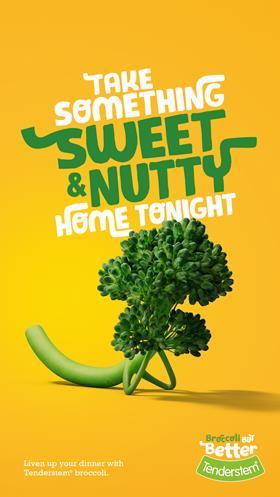 Tenderstem has unveiled a new marketing strategy and above-the-line creative under the tagline 'Broccoli but better'.
The marketing drive has been developed to continue the brand's growth trajectory, following three years of strong sales, and to increase brand awareness.
The integrated campaign from Coregeo, master licensor for Tenderstem broccoli, is described as having 'reimagined the brand personality, adopting a more light-hearted and irreverent approach to appeal to consumers who aren't familiar with the vegetable.'
Tenderstem aims to steal 'share of plate' from traditional broccoli in order to meet its goal of increasing penetration in UK households.
The campaign sees Tenderstem exploring new channels, with a heavy focus on video-on-demand and audio advertising through the likes of All4 and Spotify, helping to bolster its recent two per cent uplift in advertising recognition [IPSOS Nov 2021]. The new brand creative, developed by McCann, will also be used for digital display and video, paid search, out-of-home, social media advertising and PR.
Lacey Bradshaw, marketing manager for Tenderstem, said: "Our research indicated that people generally have two vegetables in their meal or on the side. Many consumers regularly choose traditional broccoli, however we saw that this was an unthinking choice: out of habit or familiarity. Therefore we saw an opportunity to challenge this complacency and identify Tenderstem as a better option for more special meals, which is where our strapline 'broccoli but better' came from.
'We want to give food lovers the confidence to challenge their culinary complacency and get a bit more creative with their cooking, whether it's a roast, a stir fry or a special Friday night dinner. We are confident our new creative presents a more exciting, fun alternative to normal broccoli, showing Tenderstem as you have never seen it before and the opportunities it can present in the kitchen."