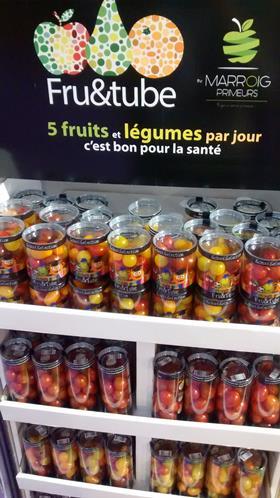 The phenomenon of tubes of fruit sold from vending machines is yet to hit UK shores, despite continued growth in Europe.
Fru&tube's innovative idea has proven popular with consumers after Spanish entrepreneur Carlos Mendez launched the product in 2015, based on the concept of a tennis ball packaging tube.
Since taking the product to France, Marroig Primeurs have seen steady growth over the past three years by distributing Fru&tube across the country and in Switzerland.
Speaking at medFEL, in Perpignan, Frédèric Taverne said their products are helping reduce sugar and salt intake across in France, and they are now setting their sights on achieving environmental targets.
"We started three years ago and have grown every year - 80 per cent of our fruit comes from Spain, and we have exclusivity rights to sell in France and Switzerland.
"It's sold in vending machines at schools, in petrol stations etc. helping people eat healthier, less sugar and salt.
"Our aim is to start using 100 per cent biodegradable plastic in June this year."
According to Taverne, the product has been trialled by a UK supermarket but is yet to achieve commercial sales, with no update on how soon the UK might see Fru&Tubes in vending machine across Britain.