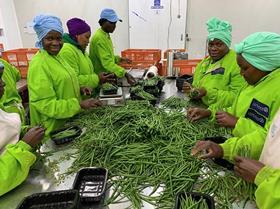 Tesco and Flamingo Horticulture have teamed up to create a new surplus food scheme for Kenyan schoolchildren.
The new initiative will see surplus food from Flamingo packhouses made into soup, which will be distributed free of charge to schools in Kenya.
The project was launched in March as a pilot, and has now been rolled out to two schools in Naiviasha, Kenya, feeding 2000 children each day. According to Tesco they are aiming to expand supply to over 5000 children following positive feedback, with further plans to roll it out to Flamingo packhouses in Peru, Guatemala and Morocco.
Tesco CEO Dave Lewis, said: "At Tesco we're committed to ensuring no good food goes to waste and we've now donated over 77 million meals of surplus food to charities and community groups in the UK. Tackling waste at farm and packhouse level is a big challenge and we're pleased to be able to partner with Flamingo in Kenya to support them to reduce food waste and help turn their surplus food into school meals."
The programme is based on Tesco's UK-wide Community Food Connection, through which surplus food from Tesco stores is donated daily to local charities and community groups.
Ian Michell, managing director of Flamingo Produce said: "Inevitably we have some food waste in our pack houses and so we're really pleased to be able to put this food to good use by making soup to donate to local schools. The feedback we've received from teachers, parents and children is really positive."
In Naivisha, Flamingo has set up kitchens in their pack houses to make soups from surplus fine beans, baby corn and broccoli, originally destined for use as compost.
The idea for the soup was developed by celebrity chef Kiran Jethwa with the help of Kenyan Parents, children and teachers.
Naivasha headteacher Rosalin Wafula from Maua school said: "Many pupils might only have one meal a day so the soup has created a sense of equality, improved the children's confidence and led to a reduction in absenteeism."
Flamingo recently signed up to global food waste tackling initiative Champions 12.3 and will be publishing their first food waste data later this month.
Last week Tesco CEO Dave Lewis chaired the annual Champions 12.3 food waste conference in New York. The group is dedicated to accelerating progress towards achieving the UN Sustainable Development Goal Target 12.3 to halve global food waste by 2030.