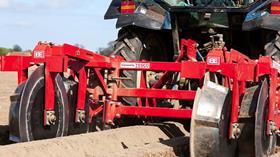 Tesco has announced its involvement in a project to help East Anglian potato growers protect the soil on their farms and the wildlife in surrounding waterways.
The project, which Tesco is running with the Broads Authority, is designed to improve farmers' yields and protect the environment. It is aimed at limiting the amount of top run-off from producers' fields, which can harm wildlife in nearby rivers and remove valuable nutrients from the soil.
Currently, only 17 per cent of England's rivers are classed as healthy by the EU's Water Framework Directive.
In East Anglia the need to protect the environment is particularly great because many of the rivers in the area flow into the Norfolk Broads – a large network of lakes and rivers that host a huge diversity of rare species. The Broadland Rivers catchment area includes the rivers Ant, Bure, Wensum, Yare and Waveney.
"By linking farmers with funding sources and encouraging the trial of new and innovative technology", Tesco said it hopes it can "help their business and the environment".
One example of this technology is the so-called 'Wonder Wheel', which the retailer has funded to make parts of the field, such as where the tractor drives, more water-retentive. This means that less water, agro-chemicals and topsoil flow into nearby rivers when it rains or when crops are irrigated. Some of the retailer's East Anglian growers trialledthis machinery while planting potatoes this spring.
Tesco is running the project in partnership with the Broads Authority and its potato suppliers in the Broadland Rivers Catchment, with additional support fromthe Rivers Trust,the NFU and the Environment Agency.

It is part of the supermarket chain's ambitious aim of sourcing all its key agricultural products sustainably by 2020.