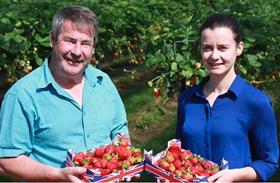 The sudden arrival of warm weather after a cold and wet spring has brought on an abundance of British strawberries.
That's according to Tesco, which has said it has stepped in to take some of the surplus crop growers have found themselves with. The supermarket has bought an extra 400 tonnes of British strawberries, putting 1kg boxes on sale for £3 instead of the regular £2 for a 400g punnet.
Tesco stressed that taking more crop from suppliers when they're in abundance and offering them to customers is part of its ongoing work to tackle food waste. Berry buyer Laura Mitchell said: 'Last week's heatwave brought the strawberries on very quickly and meant that many growers had more than they expected.
"We're happy to help out as British-grown strawberries are renowned for their wonderful, sweet taste and when in season they are one of the first things to go on shopping lists. With great weather forecast for the coming week, and therefore lots of BBQs and picnics, we're glad to be able to provide them for our customers."
Strawberry grower Alastair Brooks, whose family-run BR Brooks fruit business is based in Graveney, near Faversham in Kent, said that despite the late start the quality of the strawberries was very good. "Last year we had the best spring on record and a fantastic summer too, which gave us a great early start and regulated growth throughout the season,' he explained.
"But this year, because of the cold and damp May, we are two to three weeks behind schedule and now because of the great weather we have an abundance of strawberries. Thanks to Tesco, any surplus British strawberries won't go to waste and the good news is that they are big, sweet and packed full of vitamins."
The extra sunshine contributed to bumper strawberries right across Britain including Kent, West and East Sussex, Hampshire, Lancashire, Herefordshire and Scotland.