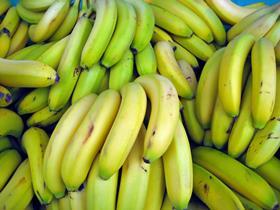 A Tesco store in Cambridge has donated a glut of bananas to charity after too many were ordered ahead of the city's half marathon on Sunday.
Seeing that buyers had ordered more bananas than the race's organisers needed, Tesco's Milton branch appealed to charitable causes on social media.
Local schools and homeless charities, such as Emmaus and Jimmy's Cambridge, were among the organisations to take some of the excess fruit, according to the BBC.
On the Milton community Facebook group, the store's community liaison representative wrote: 'We have received a large amount of bananas by mistake to store and we are looking for schools/care homes/clubs/non profit organisations who would appreciate the donation.'
Tesco did not say how many bananas were donated to charity, but it did announce that "five cages" of the fruit were left after organisers of the half marathon had taken what they needed.
One person helping with the supermarket's appeal said the excess amounted to "a few 100 kilos of bananas".