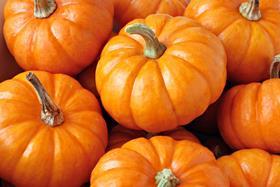 Tesco is predicting one of the biggest Halloweens in years, with high demand for pumpkins.
One of Europe's biggest pumpkin growers, Oakley Farms in Wisbech, Cambridgeshire, has reported a high-quality crop this year and its customer Tesco anticipates demand to grow by 15 per cent on last year.
Tesco is also flagging up the fact that a wider selection of pumpkins is available this year. While classic carving pumpkins are still by far the most popular, the current craze is for the novelty 'Red Devil' and 'White Ghost' varieties, which saw demand increase by more than 60 per cent last year.
In 2020 Tesco also introduced a new variety called Autumnal Squash, which it said proved to be so popular that it is anticipating demand will rocket by 300 per cent this October.
And the smaller, edible Sweet Culinary pumpkins continue to grow in popularity, it added, as a result of the plant-based food boom. Demand at the supermarket is set to be up 15 per cent on last year.
Bounceback after cancelled 2020
Tesco pumpkin buyer Emily Hampson said: "We are anticipating demand to be very strong following the disappointment of Halloween parties being cancelled last year due to lockdown.
"Our pumpkins went into stores at the weekend and if bought now, they will last well in your homes until Halloween so long as you don't carve them until a couple of days before.
"The Sweet Culinary variety is already proving popular, especially with vegans who not only make traditional pies and soup out of them but also use them as centrepiece dishes."
Oakley Farms grows around five million pumpkins each year, and is putting a particular focus on reducing waste. Manager Steve Whitworth said: 'The quality this year is fantastic and over the last few months we have had just the right amount of sunshine and rain.
"We are also seeing less pumpkins go to waste each year as both us and Tesco give whatever surplus we have left over to food charities like FareShare. Last year our surplus pumpkins and courgettes led to more than 310,000 meals being created to feed people experiencing food poverty."