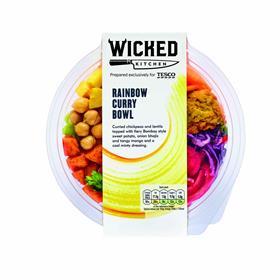 Tesco has launched its first-ever range of plant-based dishes in partnership with chef and co-founder of Wicked Healthy Derek Sarno.
Dubbed 'Wicked Kitchen', the new range of meals includes crispy carrot pastrami, barbecued 'shrooms, and sourdough pizza.
The range was prompted by soaring demand for vegetarian and vegan food as a result of lifestyle choices such as Meat Free Mondays and flexitarian diets, Tesco said.
In December, the retailer doubled its Christmas range of vegetarian meals and launched its first-ever vegan meal 'centrepiece'.
Prepared exclusively for Tesco, the new Wicked range launched on 8 January in 600 stores nationwide. It includes 11 ready meals and nine food to go options, designed for either lunch or dinner.
Sarno said: "When I first arrived in Britain from America I was hugely surprised at how little choice there was for vegans and those considering a lifestyle change.
"For too long, vegans have been overlooked, with many offerings that are available seemingly created to appease rather than truly please.
"Wicked Kitchen plans to change all that and I'm proud to work with Tesco and offer all its customers delicious meals to get them on board with this growing foodie revolution."