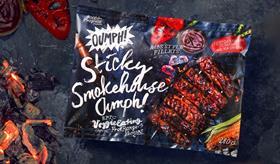 Tesco has joined a number of other retailers in expanding its vegan offering for Veganuary, bringing out a new product from the Swedish meat substitute brand Oumph!
Sticky Smokehouse Oumph! – which is rib-style fillets covered in a richly flavoured sticky, smoky barbecue sauce – is now available in selected Tesco stores in the UK and Ireland.
Made from soya beans, herbs and spices, it is a plant-based and gluten and dairy-free alternative to meat that is both high in protein and fibre and a source of iron and folic acid.
Like the other Oumph! products at Tesco, which include Pulled Oumph!, Oumph! The Chunk and Oumph! Kebab Spiced, the Sticky Smokehouse Oumph! is sold in the frozen section.
'As we expand our plant-based offering, we're pleased to be introducing Oumph! Sticky Smokehouse to a number of our stores," said Tesco's buying manager for prepared foods, Sarah Bird. "It's a fun, tasty option for anyone considering going vegan or trying a flexitarian diet and perfect to support our Veganuary campaign.'
Launch in Sweden and other Nordic countries in 2015, Oumph! is versatile and easy to cook, which makes it suitable for home cooks as well as food services. It's suitable to grill, boil, sauté, deep-fry or heat over an open fire.
In the UK Oumph! is available nationwide in major retailers and a large number of cafes and restaurants such as Bella Italia, Chiquito, Busaba Eathai and Hilton Hotels.