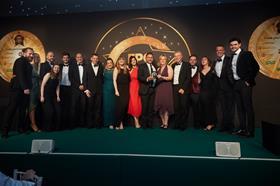 Tesco has been named Fresh Produce Business of the Year at the FPC Fresh Awards, being described by judges as a "re-energised business with fresh produce at its heart".
The awards ceremony was hosted by former England cricketer Graeme Swannat the Tower of London's Pavilion on 6 June.
Other major prizes were awarded to Leon Eijgenraam of flower and plant supplier Zyon UK, who picked up theLifetime Achievement Award after over forty years in the sector; Samantha Desforges of Berry Gardens, who won Manager of the Year; and Jacob Kirwan of G's Fresh, who won Young Person of the Year, garnering praise for his "knowledge, skill and commitment".
"Every year the standard of entries is high and 2019 is no different," said Nigel Jenney, chief executive of the Fresh Produce Consortium.
"The Fresh Awards showcase strong leadership, business acumen and innovation throughout the UK fresh produce industry. We're delighted to celebrate with the winners and finalists who demonstrate what's great about our industry."
The other winners on the night were:
- Compagnie Fruitière UK- Best Place to Work
- Aldi UK- CSR Excellence
- Albert Bartlett- Marketing Campaign of the Year
- Blue Skies- Innovation of the Year
- Perishable Movements Ltd- Business Service Partner
- Bevington Salads- Wholesale Fruit and Vegetable Supplier of the Year
- Tom Brown- Wholesale Floral/Plant Supplier of the Year
- Flamingo Produce- Supermarket Fruit and Vegetable Supplier of the Year
- Bridge Farm Group- Supermarket Floral/Plant Supplier of the Year
- Angus Soft Fruits- Foodservice Supplier of the Year
In addition, FPC conducted a poll of consumers and companies in the industry between January and April 2019 to decide the winners of four retailer awards. These went to:
- Co-op- Convenience Retailer of the Year
- Tesco- Multiple Fruit and Vegetable Retailer of the Year
- Aldi- Multiple Floral Retailer of the Year
- Tesco- Online Retailer of the Year