Kent Bramley growers scoop top prize at 89th National Fruit Show in Kent this week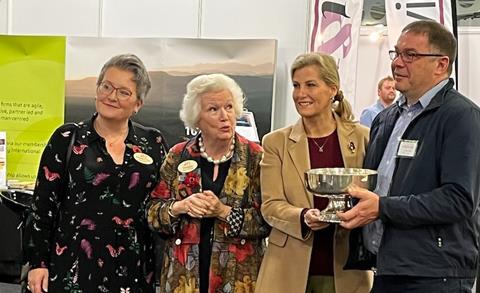 Kent fruit grower Clive & Richard Edmed was declared the overall winner of this year's National Fruit Show (NFS), held near Maidstone this week (2-3 November), for their Bramley crop.
The business, which produces a raft of apple, pear and plum varieties on its farm in Horsmonden, scooped the show's first and second prizes for their Bramleys, as well as winning a further eight awards for their topfruit.
HRH the Countess of Wessex presented the firm's Richard Edmed with the Alfred Shread Cup when she opened the show on Wednesday (2 November), which this year celebrates its 89th year.
Other notable NFS 2022 winners included the Mallions, who took home now fewer than 17 awards, and first-time entrant from Northampton, the Starkey family, who won three prizes for dessert apples grown outside Kent.
Clock House Farm won the tastiest apple competition with its Jazz apples, while the Edmeds once again stole the show – this time with Comice – winning the tastiest pear competition.
Some 22 growers took part in this year's event with 95 entries.
Commenting on this year's winners, Sarah Calcutt, executive chair of the National Fruit show said: "The National Fruit Show is the best showcase for British apples and pears when they are at their absolute peak having just been harvested.
"The judges have reported that the taste, colour and size of the apples has all been excellent and the very good growing conditions have produced a real depth and range of flavours. In short this is one of the very best tasting harvests that British growers have produced and we would encourage shoppers to look out for and buy British apples and pears in the supermarkets now and to help support British growers."