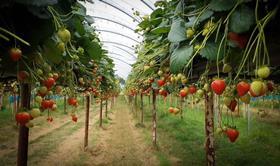 Three new everbearing strawberry varieties have been developed for commercial production, offering "a healthier and more reliable plant with much more flexibility", according to Elsoms.
Elsoms Seeds and Dutch breeder ABZ Seeds have agreed on an exclusive, commercial distribution agreement to introduce Soraya, Estavana and Rowena.
All three varieties are high-yielding, F1 hybrids that have been trialled in UK conditions by Elsoms over the last two years.
With a high proportion of commercial strawberry plants being grown from runners, these new varieties are grown from seed at Elsoms in the UK. Growing from seed offers the grower a higher level of cleanliness from the beginning, producing a more reliable plant, according to Elsoms. Strawberry plants from seed also increase the overall health of the plant.
"We're pleased to be able to introduce more variety choice into the soft fruit market," said Justin Solly, head of vegetable sales at Elsoms. "With these new varieties grown directly from seed, we know that we can deliver a healthier, more resilient option to the market."
With young plants ready for planting after only 12 weeks from being sown, growers can benefit from having more flexibility around season planning. The ever-prevalent issues around importing plants, such as cost and plant passports, are reduced by using fresh plants raised in the UK under glass.
"We've had large trials of Estavana from seed in the UK over the last two years," said Claire Taylor, seed specialist at Elsoms. "Trials of Estavana placed against the standard commercial variety, which is grown from runners, has shown a high level of performance that resulted in beautiful fruits supported by a strong and healthy plant."
The exclusive commercial partnership with Elsoms means that the UK growers can access ABZ's wider strawberry plant portfolio directly through Elsoms. ABZ Seeds are a breeder specialising in F1 hybrids and have been supplying to a global market for over 20 years.
If you're interested in the new varieties or want to know more, contactClaire.Taylor@elsoms.com.