Veg equipment manufacturer is on the hunt for five apprentices this year in a wider range of positions than ever before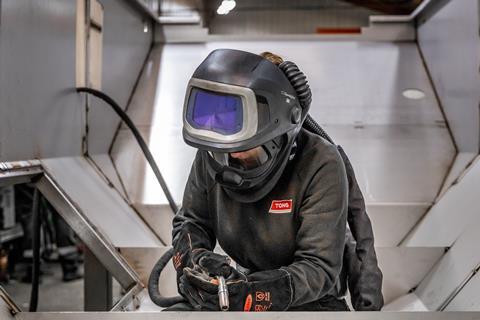 Lincolnshire-based vegetable equipment manufacturer Tong Engineering has expanded its apprenticeship scheme to cover more areas of work than in previous years.
This year, five apprenticeship places are available in areas including fabrication, machining, fitting and electrics at the company's purpose-built manufacturing facility in Spilsby.
Tong's established apprenticeship scheme offers anyone aged 16 or over the opportunity to develop a skill and put it into practice by working in a growing manufacturing business.
"We are proud of our established apprenticeship scheme and are very pleased that over 10 per cent of our current workforce started with the company as an apprentice, including team leaders, managers and even directors," said Jim Worley, factory manager at Tong Engineering.
"In line with business expansion and increased production capacity brought by our new facility, the Tong 2022 apprentice scheme includes more positions than ever before.
"We are excited to recruit a number of enthusiastic apprentices who will work alongside our experienced engineers to develop their own skills with the opportunity of permanent job positions once training is complete."
From the apprenticeship roles on offer, new recruits have the option to select an area of speciality that best suits their career aspirations and personal skill set, supported by a customised training programme.
April Armsby, now a full-time welder and fabricator at Tong Engineering, joined Tong's apprenticeship scheme in 2019 after completing a full-time course at Lincoln college doing welding and fabrication.
After a week's work experience with Tong, April realised she enjoyed the practical work and enrolled on the Tong apprenticeship scheme.
"My apprenticeship started with four days working in the Tong factory, plus one day in college per week," she said.
"From my first apprenticeship trial day, I loved it and I've never looked back since! The apprenticeship way meant I could experience the work and being part of a team, whilst learning the technicalities behind the engineering at the same.
"I would definitely recommend it to anyone considering a phased way to enter long-term employment. My qualifications include an NVQ and a diploma in welding and fabrication."
Tong's managing director Edward Tong added: "We are dedicated to encouraging young people and new talent to get into engineering.
"A Tong apprenticeship not only provides the opportunity to acquire a recognised engineering skill alongside valuable hands-on experience, but it is also a great way to join a local, family business, supplying high quality equipment to a growing base of customers in the UK and worldwide."
For more information on the specific apprenticeship roles available, click here, or email jim.worley@tongengineering.com to express your interest.