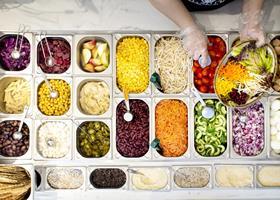 Once a lunchtime staple in America's Northeast, the chopped salad now appears to be on the wane in the US. Five years ago, dicing personalised salads 'live' at the counter with a curved two-handled mezzaluna was a big deal in cities like New York, Boston and Washington DC, but more recently there have been reports of some New York chains cutting the option to chop.
Not the best time to be opening a large new chain of chopped salad bars then, you might think. But that is exactly what Berlin entrepreneur Nikras Agha is doing, as he prepares for the launch of Choppaluna in London next month.
In Britain, the chopped salad trend is yet to take off in any big way. Shredded salads are available at some restaurants, and in April Irish chain Freshly Chopped opened its first UK store in Manchester, but many UK consumers still don't even know what a chopped salad looks like – although they could probably take a good guess. Agha sees a gap in the market, and after three years running a chopped salad bar called Salaid in Berlin, he is confident the concept will prove popular in British cities.
"I was on holiday in New York with my girlfriend when I had my first chopped salad," he recalls, "and we loved it so much that during our five days there we went to all sorts of different places. These create-your-own-salad bars with their vibrant brands are kind of a lifestyle over there, and everyone I recommended it to loved it."
One of those people was Agha's childhood friend Bijan Azadfard, and almost before they knew what they were getting themselves into, the pair had quit their respective jobs and started searching for the site of their first chopped salad bar. "Bijan and I used to work in tech startups but his family had run all kinds of Greek, Persian and Mediterranean restaurants and delis," Agha explains. "We weren't looking for this business opportunity at all, but Bijan just said to me: 'If you quit your job, I'll quit mine', so we just went for it."
It took almost a year and a half to find a site, which eventually opened in 2016 on the top floor of a mall in Potsdamer Platz. For the first year both Agha and Azadfard manned the store themselves, doing everything from chopping salads to mopping floors, and after less than six months in business the store had already broken even. Earlier this year, the pair teamed up with business development partner Hero Brands – which is behind the rapidly expanding group German Doner Kebab – to plot their UK launch, and this time the plan was to create a chain under a new name, Choppaluna, derived from that two-handed blade.
With 12 franchise agreements signed in London, and a further 60 in the pipeline across Glasgow, Edinburgh, Birmingham and Manchester, the brand aims to open as many as 300 stores over the next decade. While this might seem like a lofty ambition, Agha insists it is entirely plausible given the rising demand for healthy, plant-based food. "Literally, wherever there's a Subway in the UK, we could open a Choppaluna," he claims. "Healthy eating isn't a trend anymore – it's really a movement – but we're all about taste, not health. The healthiness is a bonus."
Agha is confident the combination of Hero Brands' marketing nous and supply network – director Athif Sarwar also owns Scottish cash-and-carry powerhouse United Wholesale – Azarfard's background in food, and his three years' experience running Salaid will provide a strong platform for Choppaluna's success. "I have no doubt chopped salad can and will break through into the mainstream in the UK," he says, but to do that he knows he will need to change people's mindset about salad.
Although leafy ensembles have become increasingly popular in Britain as the health trend gathers pace, they are still only available as a starter at many restaurants, and it is not uncommon to hear people say they aren't hungry and will "just have a salad". Agha stresses that he needs to add a 'wow' factor – to make people realise salad can be an exciting main meal in its own right.
For some fans of the chopped salad, the wide choice of ingredients is its main advantage, with Choppaluna set to offer 40-50 toppings ranging from sundried tomatoes to beetroot to jalapeños. But speak to Agha and he'll tell you flavour is key – chopping a salad fresh can completely change the eating experience. "If you chop a salad and eat it straight away, it makes the flavours more intense, and if the ingredients are cut up nice and small, you can eat them all together on one fork," he says. "It creates an entirely different taste."
The customer experience is another big selling point, with many enjoying the theatre of the 'live chop'. Agha refers to one regular at Salaid in Berlin who comes with his once salad-phobic daughter every Friday after school: "She stands on a crate to watch us chopping the salad and apparently she even tries at home now. This is what we're all about."
While there are now a number of other specialist salad chains in London – such as Chop'd, Tossed and Savage Salads – Agha says he wants to open up a different category in Britain – and this is why he's decided not to provide off-the shelf grab-and-go salads like most of his future competitors.
Customers will be able to choose from a number of set salads devised by Azadfard and his father (but assembled fresh), or create a personalised salad with any combination of ingredients. In addition, there will be a range of 'chopped rolls' inspired by different parts of the world – these are salads wrapped in breads of different flavours – and breakfast smoothie bowls topped with various fruits and/or crunches.
"Guilt-free indulgence" is what Agha's aiming for, and he stresses that the salads must be affordable – so that consumers can return several times a week. At Salaid, most of the salads are priced at €5.90-€7.50, depending on the ingredients, and while this is twice the price of a €3.50 doner kebab in Berlin, it reflects the cost of the ingredients.
"The biggest challenge is to get the salad at an affordable price for the customer because fatty foods like pizza are cheaper to produce than meals with fresh and heathy ingredients like avocados," Agha says. "Despite this, most customers are willing to pay more for a burger or pizza than for a salad, so the biggest challenge will be to make the customer understand that what they're paying for is worth it. Thankfully, that awareness has been growing over time."
The other obvious price pressure is Brexit. The timing of Choppaluna's launch – potentially straight after Britain's EU departure – will raise some eyebrows. But asked whether he's worried about likely price rises and his company's ability to source enough salad veg, Agha is perhaps surprisingly optimistic. "At the end of the day, food is something everybody will need, and there will be solutions for everything," he says. "We're trying to source as local as possible, so I don't think it'll actually be a big issue for our concept."
Only time will tell whether the UK's reliance on Spain for lettuce, tomatoes and a range of other salad vegetables will prove a major stumbling block for the new chain, but Agha and Azadfard's ability to quickly transition from tech startups to food and make Salaid a success bodes well for the exciting but tricky months they have in store.