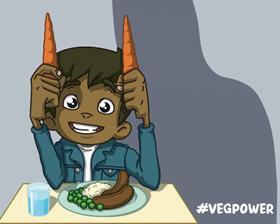 Veg Power, the not-for-profit to increase vegetable consumption in the UK, announced today (6 September) that Tozer Seeds, an independent vegetable seed breeding company, will be joining its membership programme.
This addition brings the number of members supporting Veg Power's work to 23 from across the whole horticulture sector including grocers, growers and suppliers.
Currently vegetable consumption levels in the UK are not meeting government recommendations. Almost a third (29 per cent) of primary school aged children are eating less than one portion of veg a day, decreasing to just 23 per cent of 11-16 year olds. Meanwhile, only a third of adults are achieving the 5-a-day target.
As vegetables are an essential source of vitamins, minerals and fibre and a key part of a healthy diet, these low consumption figures suggest our nation's nutritional intake and overall health may be compromised.
In Q4 2020 to help reverse this trend and increase vegetable consumption in the UK, Veg Power launched a unique whole-sector membership programme. It provides the grocery industry and horticulture sector a direct stake in the future of the campaign and offers a range of benefits including exclusive insight reports, industry briefings and brand-licensing opportunities.
Veg Power's work includes changing children's perceptions of veg to increase their consumption via the award-winning Eat Them to Defeat Them campaign. Since the campaign debuted in January 2019, it has led to sales of over 517 million additional children's portions of vegetables worth £63m and achieving over £17m of marketing value for vegetables. This year the campaign reached 500,000 children in 1,900 primary schools. It also runs a number of year-round seasonal veg initiatives and social media campaigns reaching a broader range of the UK population.
David Rogers, commercial director, Tozer Seeds, said: "At Tozer we have always been passionate about vegetables, we are keen to help increase their consumption and especially keen for children to be eating more. We therefore wholeheartedly support this initiative, and we look forward to working with Veg Power to promote their campaign."
Dan Parker, chief executive, Veg Power, said: "At Veg Power we have an ambition to get every child and adult eating an extra portion of veg. Our unique membership programme brings together companies across the whole sector working together to that goal. We are delighted that Tozer Seeds have joined us as we now have support from a diverse range of companies from seed to fork."
Veg Power, a not-for-profit Community Interest Company, was founded by the Food Foundation, Hugh Fearnley-Whittingstall, Sir John Hegarty and Baroness Boycott to turn around vegetable consumption in the UK. It runs a number of creative initiatives to engage, inspire and motivate people to eat more veg and create life-long good food habits.
Veg Power is funded by Abbey View Produce, Abel & Cole, Barfoots, Birdseye, Coop Foods, EVG Europe, Fresca, Greenyard, Gs, Home Farm Nacton, Minor, Weir & Willis, Monaghan Mushrooms, Ocado, Produce World, Riverford Organic, Riviera Produce, Sainsbury's, Staples, Tesco, Total Produce, Tozer Seeds, Wealmoor and Waitrose.
Tozer Seeds has bred pioneering vegetable varieties for over 75 years and has grown from a local company to a global concern with offices in Spain, The Netherlands and the US.