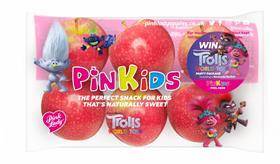 Pink Lady is running a promotion around the new Trolls movie exclusively in Aldi.
The promotion runs for two weeks from 3 December as part of a partnership deal with Universal Pictures, and offers five shoppers the opportunity to win a Trolls Party Pack through a Pinkids on-pack competition, exclusive to Aldi stores nationwide.
The promotion, which celebrates the new Trolls World Tour film, is featured on every six-pack of Pinkids apples sold through the discounter.
Consumers can enter the competition through the Pink Lady website, with instructions communicated via an on-pack sticker, to be in with a chance of winning one of five Trolls-themed party packs. The pack includes a Nintendo Switch along with a Just Dance 2021 game, Trolls board game, Lego set, party mixer, cuddly toy and Trolls World Tour DVD. There will also be a chance for 100 runners-up to receive a Trolls World Tour DVD.
Pink Lady UK marketing manager Lynn Shaw said: "We're proud to be able to team up with Universal and our retailer partner Aldi, to offer something special to families in the run up to the festive period.
"Our aim is to create positive experiences for consumers, whether that's enjoying one of our apples or through brand collaborations. This unique prize enables our winners to enjoy a party at home, despite the current restrictions, offering families some extra fun in difficult times. We hope this promotion will excite and interest families across the nation and encourage the appetite for fruit amongst children."