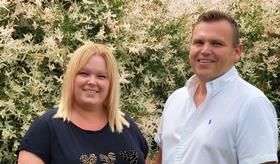 Leading apple and pear grower AC Goatham & Son has promoted two of its staff to the senior management team.
Gayle Goatham has been appointed HR and recruitment director, while Steve Barwick has been named commercial director.
Goathamjoined the business 20 years ago and has been responsible for managing the exponential growth in its full-time and seasonal workforce, which now number around 250 and 800 respectively.
Meanwhile, Barwick came on board in January 2020, bringing with him a wealth of experience from a number of sectors, where he has worked in senior roles in buying, product development and as commercial director.
AC Goatham & Son managing director Ross Goatham said: "I am delighted to welcome both Gayle and Steve to our senior management team in recognition for their hard work and the key roles they play within the business contributing to its ongoing growth and success.
"Since the start of the Covid pandemic, our whole team has come together to work hard to ensure we have maintained a daily supply of British apples and pears to supermarkets across the UK.
"As we now look ahead to continued business growth and as a country, we navigate new trading relationships and opportunities, our team continues to be focused on ensuring there is both a quality, sustainable supply of British apples and pears available each year for the longest season possible and also exploring new market opportunities."