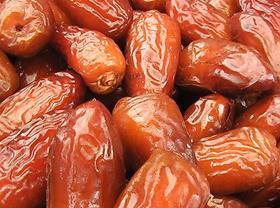 Three Tunisian companies are showcasing their products in the UKfor the first time, with fresh produce a strong component of their ingredient mix.
The businesses are part of a government-funded programme designed to help small producers bring their unique and unusual food and drink into the UK. They are hoping to attract new distributors and retailers to their ranges.
Deva Fruta dates are produced by a company that works closely with its farmers in Tunisia to guarantee the quality and provenance of the fruit. It's a third-generation family business that started in 1957 specialising in Deglet Nour dates exported around the world and now, for the first time, to the UK.
According to the firm, the dates 'have been dutifully and carefully pitted and are a joy to eat', adding that 'their natural fruitiness and sweet notes suggest honey and almost umami-like richness.' They are 'beautifully shaped caramel coloured dates that positively glow with a natural, fresh, just-picked appeal.'
Chamalo is launching its Pate De Fruits. Produced by a small team in Tunis in a traditional way, the sweets are described as being made with the best-quality local fruit, creating the perfect balance between the natural fruit puree and sugar. The fruit jellies are gluten free and suitable for vegans.
Sun Antipasti's Lina brand is also showcasing its Shakshuka. This traditional Tunisian spicy medley is packed with vine-ripened tomatoes, hearty onions and peppers, with a hint of caraway and coriander.
The firm explained: 'This is a hand-prepared sauce, full of flavour, vibrancy and freshness and is absolutely delicious. The vegetables are perfectly cooked – offering up their integral flavour with a blend of spices. The chilli tingles along in the background, never completely taking over, just bringing the dish together.'
The companies are all participants in a British government-funded export support programme, led by the British Embassy in Tunis in conjunction with CEPEX (the Tunisian export promotion agency) and delivered by OCO Global, a specialist international trade and investment consultancy. Each of these three companies was selected to be part of a six-month market acceleration programme, where OCO food specialists helped them prepare their products for the UK market and facilitated introductions to relevant customers and partners.
All three companies have already won Great Taste Awards 2020.
Colin McCullagh, director at OCO Global, said: "We are delighted to see that these companies have been recognised for the quality of their products and we hope it shines a light on Tunisia as an outstanding producer of high-quality food products on the UK's doorstep".
Enjoyed this free article from Fresh Produce Journal and its team of editors? Don't miss out on even more in-depth analysis, plus all the latest news from the fresh produce business. Subscribe now to theFresh Produce Journal.