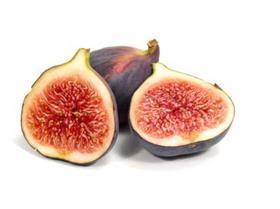 A UK grower is closing in on domestic production of figs, olives and even citrus.
Essex grower Peter Thompson has been trialling a selection of non-traditional British crops in recent years, with his work landing him a Special Merit Award from the Worshipful Company of Fruiterers. He outlined the progress he has made during the National Fruit Show conference last week, which was presented in association with the livery company and FPJ.
With climate change bringing higher average temperatures and season extension across a variety of crops, growers are finding opportunity to produce varieties that are not traditionally grown in the UK. "We are replanting our Braeburn, Conference and Opal orchards with olives and figs," Thompson explained, "and we are expanding our citrus trials. We must find naturally sustainable crops that are going to fit with our climate. I'd like to achieve 20 per cent of my land planted with innovative crops in the next five years."
Thompson pointed out that the UK has a long history of garden production of figs, and the fact that as the crop is successfully grown in France, Spain and Italy and other lines like apricots have worked in the UK, there is reason to believe UK figs can become a commercial entity too. There are wide varietal resources available that should allow growers to find options that will suit the UK market, he added.
Thompson began fig trials in 2012 with a randomised planting of six varieties on a single hectare, but the business has now narrowed these down to two, sweet varieties that are displaying commercial potential. They are harvesting in August and November, with the latter looking most promising, and are grown pesticide free.
It is a similar story with olives, with enormous varietal resources and the ability to grow in multiple climates from France, Spain and Italy to New Zealand and Japan. Thompson planted his first UK olive grove in winter 2017-18, produced a successful table olive crop in 2018-19 and a small amount of olive oil in 2019-20. "We have 380 trees in these trials and we are quite excited by the potential," he said.
Citrus is a challenge for UK production, but Thompson pointed out that there is cultivation of citrus in countries with hard winters and he has found some success with lemons. Again, there are extensive varietal resources to draw upon and significant market potential, crucially within value categories as well as volume. Thompson currently has five varieties on trial, unheated but protected, and plans to expand trials with the introduction of outdoor plantings and seasonal crop covers.
"We had some consumer trials [of our citrus] in summer 2020 and it was extremely well received. It shows we are able to produce the eating quality that will capture the consumer imagination," he added.
Enjoyed this free article from Fresh Produce Journal and its team of editors? Don't miss out on even more in-depth analysis, plus all the latest news from the fresh produce business. Subscribe now to theFresh Produce Journal.