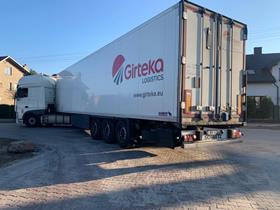 UK fresh produce grower-importer-distributor Nationwide Produce has coordinated the donation and delivery of three truckloads of fruit and veg from British growers to help feed Ukrainians trapped in, and fleeing from, their country.
Nationwide Produce is supplying Warsaw-based non-profit organisation AGROunia, which delivers food and supplies into Ukrainian towns and cities, as well as to refugee centres on the Polish-Ukraine border.
The consignments of UK produce are being received, unloaded and redispatched by one of Nationwide's Polish customers at their warehouse in Mlodzieszyn, just outside Warsaw, for delivery to AGROunia's headquarters.
The first truck full of UK produce left Nationwide's Evesham depot on 9 March and reached Mlodzieszyn on Monday morning (14 March), the second arrived soon after, and the third is making good progress, according to Nationwide Produce group managing director Tim O'Malley.
"It all began on Thursday 3 March, about a week after the Ukraine war began, with a conversation between two of our traders – Barry Gaskell in Southport and Sylwia (Silv) Rzeznik in Spalding about what we could do to help feed the Ukrainian refugees in Poland," O'Malley explains.
"Silv found a Polish charity, AGROunia, and contacted the main guy .. who was keen to have veg off us, particularly long shelf-life basic lines such as spuds, carrots, onions, cabbage etc. Also, fruit such as apples and oranges. Silv was then on a mission to pull together a full load with the help of her boss, David Noton."
The first port of call was Nationwide Produce's Lithuanian haulier, Girteka, who offered a 50 per cent discount. "We made up the rest," O'Malley continues. "We collated everything for the truck at our depot in Evesham. We also supplied all the onions from our own farms. We needed plenty of spuds, and Bartlett, Greenvale and Pryor down in Cornwall all kindly stepped up to the plate. Jonny Hammond insisted on supplying all the carrots & snips. John Saul supplied the cabbage, Jack Buck the celeriac, Poupart the apples, Fountain Fresh the oranges. All free of charge, God bless 'em! Turners even threw in free transport for delivering the goods to Evesham. And then we had a problem. A nice one though. Too much gear! So, we asked the charity if they could take another truck which they welcomed with open arms."
Nationwide then put out a call for new suppliers to donate goods. "They came forward in their droves," says O'Malley. "Fruco and Alfred Price for apples, Seddon for Leeks, Baxters Highbrow for Cabbage and Fresh Food BE for pears. One of our guys at Evesham, Dicky Dyde, mentioned it to one of his customers, West Country Fruit Sales. They asked if they could please donate dry goods which the charity was keen on. So, a mixed pallet of everything from rice and pasta to tea, nuts, flour and cleaning products was pulled together at short notice. West Country also donated a pallet of caps and remarkably, one of their growers insisted on donating £500!
"We're now saying to the Polish charity, you let us know when you're ready for your next one and we'll arrange it," he continues.
"The response from suppliers, customers, hauliers and our team has been truly overwhelming," O'Malley adds. "I think this demonstrates the extraordinary generosity of our industry. We're all working on wafer thin margins that are being pushed to breaking point by hyper-inflation, much of it caused by this war, and yet we've been inundated with donations. I'm proud to be part of an industry that has been overwhelmingly generous to provide the very best form of food, the most healthy and nutritious, fresh produce, to feed the Ukrainian refugees."