Record temperatures cause losses in a range of crops but impact "could have been a lot worse", according to NCGM wholesaler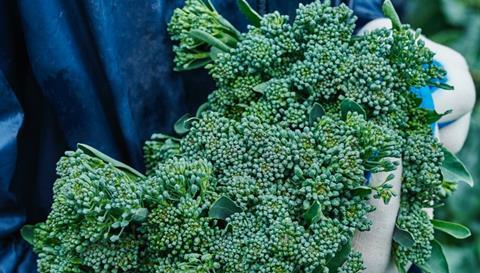 UK growers are counting their losses following the heatwave in late July that saw temperatures reach around 40°C in large swathes of the UK.
Temperatures were highest in Coningsby, Lincolnshire on 19 July, reaching 40.3°C while other key growing areas such as Cambridgeshire, East Anglia and Kent also saw temperatures of 39°C.
Thankfully, NCGM wholesaler Vernon Mascarenhas of Nature's Choice said his producers only really experienced losses in crops that had to be harvested that week, while other crops may have slowed but ultimately remained resilient to the heat.
Drought a greater challenge
Mascarenhas added that he thinks drought rather than extreme heat poses a greater risk to fruit and vegetable production.

England has seen the driest start to the year since 1976 with further dry weather forecast in August, according to the Met Office.
This has affected various crops and put pressure on some growers' water supply, but Mascarenhas said growers have been able to minimise the extent to which this affects them by guaranteeing their own water needs with reservoirs, and wasting less water thanks to drip irrigation techniques.
That said, Tom Bradshaw, the deputy president of the National Farmers' Union, said: "The impacts of this prolonged spell of dry weather are hugely challenging for many farms across the country and causing concern for all farming sectors.
"With the forecast predicting more dry weather in the coming weeks, we will continue to monitor for any impacts on UK food production."
'Could have been worse'
Commenting on the impact of July's record temperatures, Mascarenhas, who works closely with the growers that supply his produce, said: "Considering the heat, we did really well. The damage could have been a lot worse. There was some damage to fruit and vegetable crops, but it's the same sort of damage we would see in an average summer if we had a lack of rain, a couple of hot days in a row, an infestation, that sort of thing.
"We lost some peas, broad beans, cavolo nero, chards, sprouting broccoli, Tenderstem… but then the next drillings were just behind them. For example, with Tenderstem we lost the tips that we were going to cut but the plants keep on producing.
"The thing that happens in the heat is that plants shut down to protect themselves. They let their mature pieces go yellow, burn off and fall, but they will very much protect their younger stems and those are the ones that continue to come through well."
In salads, meanwhile, Mascarenhas said delicate outdoor leaves such as baby spinach and rocket were hit hardest, while hardier lettuces such as cos and gem weren't lost but had to be trimmed more than normal because of tip burn.
He expressed concerns that the apple and pear crop could also be affected if the UK experiences further heatwaves this year, predicting potentially smaller and more acidic fruit because the final growth spurt for topfruit is when the sugars develop.
Raspberry losses
Suppliers of soft fruit to Nature's Choice didn't experience losses but saw production slow down. However, this experience wasn't universal – an anonymous raspberry producer said he expected to lose around a quarter of the fruit harvested last week due to scorch and over-ripeness, amounting to 50 tonnes.
Explaining the impact of the intense heat on his crop, he said: "Raspberries, like all plants (and people), need time to acclimatise to high temperatures.
"In Spain, where they are grown from tips planted in July, they get used to growing in what we consider hot temperatures and the same varieties will not suffer to the extent they do in the UK.
"Our high temperatures come on quite suddenly and the plants basically shut down. They close their stomata to prevent wilting, and this reduces water uptake and hence growth.
"Fruit already formed ripens quickly without putting on any size and any fruit exposed too long to direct sunlight scorches and is bleached white.
"Some varieties can start to taste a little bland as the sugar-acid balance is upset, and of course the discipline to cool the core of fruit to below 5°C has to be all the more important, as residual heat will affect shelf life."
He added: "Even picking for 24 hours is not sufficient, but who can keep a labour force standing by for such weather events? Shade netting would also help yet the cost of putting up then taking down again within a week does not justify the capital or operational costs.
"For 90 per cent of the UK season we are more concerned about keeping heat in and light levels up, however if this becomes more regular and lasts longer then I am sure we will all have to invest.
"Fruit farming is and always will be about mitigating the problems caused by the weather. Of course, that is what vertical farming is all about – certainty of production – but is the public ready to pay a premium for this, or are they happy to accept a few days a year without raspberries and strawberries?"