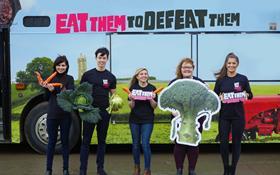 Veg Power is calling on the UK horticulture industry to unite with retailers and foodservice providers to change children's perceptions of vegetables, increasing their consumption and addressing a growing health crisis.
The not-for-profit Veg Power alliance - which created the award-winning Eat Them to Defeat Them campaign - is asking companies across the whole vegetable supply chain to come together to fund its expansion. It said this industry first would bring together retailers and food producers with caterers, restaurants, growers, wholesalers, processors and the companies who supply them, and allow it to expand its reach and impact with an extended marketing push, wider schools activity and year-round promotion of seasonal vegetables.
Veg Power's ambition is for every child aged 2-19 to eat one more portion of vegetables every day, a target that would equate to an extra 326m kilos of veg eaten every year. Currently 94 per cent of 5-10 year olds and 96 per cent of 11-16 year olds are eating less than the recommended three to five portions of veg a day. Even more seriously, every day a third of 5-10s and a quarter of 11-16s fail to eat even a single portion.
Whole-sector alliance
To help reverse this trend, Veg Power has launched a whole-sector membership programme that gives the grocery industry and horticulture sector a direct stake in the future of the campaign that will benefit both their businesses and the health of the nation. With this support vegetables, which have traditionally struggled to gain marketing traction, will have the largest and most creative campaign in fresh produce, according to campaign organisers.
Veg Power's membership programme also offers a range of direct benefits including exclusive insight reports, industry briefings and brand-licensing opportunities as well as the chance to participate in the rapidly expanding schools' programme.
The funds raised will directly support Veg Power's expansion, allowing it to release unique market analysis reports, strengthen its core team, enrich its schools' programme, launch a year-round seasonal vegetables initiative and extend its digital influence, among many other benefits. If the campaign reaches its objectives, Veg Power said it would bring a sales boost of £173m to the veg sector, thereby benefiting the entire chain from farm to fork.
The campaign has received high-profile support from figures within the industry and beyond, and has alreadyachieved over £10m of marketing value for vegetables and generated £63m in vegetable sales. Since 2018, backed by key partners including principal supporter ITV and leading agency adam&eve/DDB, Veg Power's Eat Them To Defeat Them ad has been viewed by over 46m people and received the support of celebrities including Will.i.am, Ant & Dec, Jamie Oliver and Hugh Fearnley-Whittingstall.
Direct increase in sales and consumption
Baroness Rosie Boycott, Veg Power chair, said: "As each generation eats fewer vegetables than the one before, our children's dietary health declines, their weight increases and the long-term outlook for the horticulture industry is worrying. Veg Power was set up to see what would happen if we used the brilliant and creative minds of the advertising industry to promote the humble vegetable, and so far through the work of the Eat Them To Defeat Them campaign, more kids are seeing vegetables as fun, and children, their parents, schools and retailers are all reporting a direct increase in sales and consumption. But for this to continue and to secure lasting change, we need reliable core funding to support our work."
Dan Parker, Veg Power chief executive, added: "If we are going to achieve real change and sustainable shifts in behaviour, Veg Power needs to operate nationwide over the long term to reach greater numbers with our campaigns. We see our mission as reshaping children's values and perceptions of all vegetables. From suppliers of the goods and services used by horticulture, through to growers, wholesalers, processors and retailers, we need all who stand to benefit from Veg Power to come together. For every pound we raise, we'll continue to raise dozens more in free media, celebrity support and pro-bono goods and services."
National Food Strategy lead Henry Dimbleby described Veg Power as 'by some margin the most creative attempt I have seen anywhere in the world' to boost veg consumption, a view echoed by British Growers' chief executive Jack Ward, who said: 'In almost 40 years of operating in the industry, this is by far the most effective pan-industry initiative to promote the consumption of vegetables."
Chef and campaigner Jamie Oliver said: "Anything that empowers kids to eat more veg is a win in my book. Veg Power deserves the support of the whole food system working together."
Enjoyed this free article from Fresh Produce Journal and its team of editors? Don't miss out on even more in-depth analysis, plus all the latest news from the fresh produce business. Subscribe now to theFresh Produce Journal.