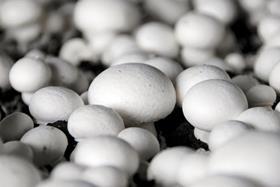 Veg Power is gearing up for a range of activities to "engage, educate and inspire" young people to eat more vegetables in 2021.
In the week commencing 15 March, the marketing campaign behind the ground-breaking Eat Them to Defat Them adverts will spotlight mushrooms, with a focus on the role they play in supporting our immune health thanks to their vitamin D content.
Veg Power will be posting mushroom info, recipes and advice on itsInstagramandTwitterpages during the course of the week.
This year's campaign is being supported by Dr Dawn Harper, Dr Glenys Jones from the Association for Nutrition, and 2016 Masterchef champion Jane Devonshire, among others.
Chief executive of Veg Power, Dan Parker, said:"Thanks to the generous funding support we received from this sector, we have exciting growth plans for 2021.
"As part of our mission to get the UK eating more veg, we want to showcase the variety of domestically grown vegetables, starting with mushrooms, with more to feature throughout the year.
"If we can encourage people to increase the variety of vegetables they consume, we believe it will increase the volume and the value that people place on the veg on their plate."