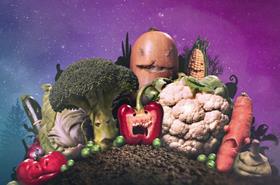 Veg Power, the non-for-profit organisation with a ten-year mission to turn around vegetable consumption in the UK by getting every child eating one more portion of veg a day, is poised to launch its award-winning schools campaign in Northern Ireland and Scotland on 17 May, with England and Wales following soon after on 7 June.
Each participating school will receive an Eat Them to Defeat Them Power Pack filled with a range of materials including reward charts and sticker packs, a puzzle book sponsored by Change4Life, posters and table decorations, Veg Power told FPJ.
The organisation expects to reach 500,000 children in 1,700 schools through the programme.
Meanwhile, production has begun on Veg Power's fresh new £3 million TV ad, donated by its campaign partners ITV, Channel 4 and Sky Media, the organisation reveals.
"Kids will feature as the heroes, and it will be on our screens at the end of May, all supported by a social media campaign," says Veg Power communications director Rebecca Stevens.
In January 2019, Veg Power and ITV joined forces with award-winning creative agency adam&eveDDB to launch Eat Them to Defeat Them (ETTDT), a bold new advertising campaign that reached into the homes of 40 million people.
With pro-bono services, donations and support offered from huge names in advertising, media, food, and more, ETTDT became the biggest coalition in advertising history, and has gone on to win numerous awards across the food, media and advertising industries.
Between February 2019 and July 2020, ETTDT encouraged the sales of an additional 25,828 million grammes of vegetables – the equivalent of 517 million child sized portions, according to Veg Power data. In revenue terms, this amounts to £63m of extra vegetable sales in grocery multiples, it said.