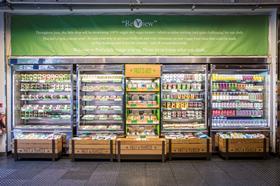 Pret A Manger's trial vegetarian store in London's Soho is to be made permanent after sales and feedback exceeded expectations.
Announced yesterday (5 September) by Pret CEO Clive Schlee, the move comes as the company said it is also considering sites for additional veggie stores in London and across the UK.
"After the massive hype of the first few weeks, sales at Veggie Pret are still well up on where they were before the conversion. It started out as an experiment in response to customer feedback and our customers have spoken loud and clear, so Veggie Pret is here to stay," said Schlee.
The next Veggie Pret is likely to be on a "visible" corner in the City of London, where the company will again convert an existing store, with aims to open this before the end of the year. Schlee said the company would like to roll out the concept to other cities, and noted there is already a petition to convert a store in Cambridge.
"Clearly, the move towards a plant-based diet is gathering momentum, especially among millennials," he continued, adding that vegetarians and vegans are 'an articulate and social media-savvy group' who have been advocating eating less meat for years.
"We have had over 20,000 customer comments in the past twelve weeks and many of you have offered heartfelt thanks to Pret for making a bold move. Even Sir Paul McCartney emailed,' he said.
Schlee said Pret's goal is to encourage meat eaters to try more veggie food by making sure it looks and tastes better. He said vegan dishes and sweet treats remain the biggest-sellers at the Veggie Pret, with the Cacao & Orange Pot selling ten times more than forecasted sales.
Veggie Pret in numbers:
· Nearly 10,000 customers voted in a poll last year to shape Pret's veggie offering
· Veggie Pret was intended to be open for one month, before being extended through summer due to demand
· Over 45 brand new vegetarian and vegan recipes were developed for Veggie Pret
· The shop's sales were expected to drop 30 per cent when it became veggie, but in fact sales grew
· The top eight best-selling products have been vegan-friendly
· More than 50 per cent of Veggie Pret customers say they eat meat regularly