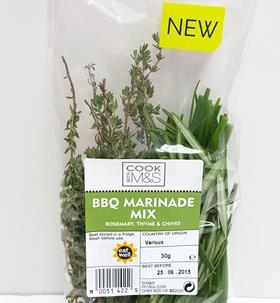 Vitacress has launched a new BBQ mix of fresh herbs into Marks & Spencers' stores just in time for summer.
The product, which includes fresh rosemary, thyme and chives in equal 10g measures, has been specially designed to create an ideal mix for BBQ marinades on both meat and fish.

Tony Reid, head of marketing at Vitacress, said: "We're really pleased to have launched the BBQ fresh herbs mixture into M&S. With the British weather being as unpredictable as it is, it's great to have something which can make an impromptu barbecue that bit more special. It's a very versatile product at an excellent price, and has launched just in time for BBQ season.
'The British weather means most BBQ's are a spontaneous event and this new mix is perfect for seasoning meat or fish, ensuring you serve up delicious food even if it is a last minute decision."

The herbs selection has launched into 164 M&S stores, and retails at just £1. With a very varied range of uses, the product is a great option for people who like to cook from scratch and for anyone looking to host a summer party.

The herbs are a versatile fridge essential as well as for BBQ marinades, they are also suitable for everything from sauces to salads, making them the perfect option for those looking to entertain this summer.