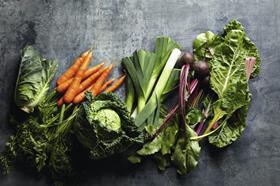 Waitrose has teamed up with insurance company Vitality to offer shoppers nearly half price discounts on healthy foods such as fruit and veg.
The novel deal sees the supermarket launch an exclusive, long-term partnership with the health and life insurer, with discounts of up 40 per cent off healthy foods for members of Vitality, as well as 25 per cent cashback.
The amount of cashback available will directly correlate with the level of physical activity a member has done the previous month.
Members can earn points each time they engage in the Vitality Programme, with points available for being physically active, such as running, walking, swimming or cycling, using a linked activity tracking device.
Waitrose is the only supermarket Vitality is partnered with, with nearly 2,000 Good Health products included in the scheme. Unlike Vitality's previous tie-up, the partnership sees Vitality members able to benefit both online and in store.
Martin George, Waitrose & Partners director of marketing, said:'We're passionate about helping our customers lead happy, healthy lives, and this arrangement with Vitality is the perfect partnership. Every product carrying our Good Health label provides a clear nutritional benefit, helping our customers get the nutrients that are important as part of a healthy balanced diet. We will be actively exploring new ways we can work with Vitality in the future."
Neville Koopowitz, chief executive at Vitality, says:"Health and wellbeing sit at the very core of our business, and time and time again we have seen how incentives can positively impact people's lives by supporting them to change their behaviour, get more physically active and make healthier choices. Working with Waitrose & Partners we are delighted to be able to further incentive people to get more active and support people to make healthier food choices."
"Our strategy of offering richer benefits to those members who hold multiple Vitality products, means we can deliver even more value to those who are physically active, which further deepens our conviction in the social purpose of the Vitality model to positively change society."
Vitality members will need to have a registered myWaitrose card to participate in the promotion. Further information on the scheme can be foundhere.