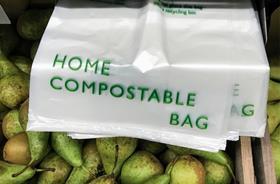 Waitrose has been named best-performing supermarket when it comes to plastic reduction - but retailers are still not doing enough, according to a new report.
Greenpeace and the Environmental Investigation Agency (EIA) worked together to create their third league table of supermarket performance when it comes to reducing plastic. They analysed stores based on overall plastic reduction, adoption of reusables, commitments to reduction and reuse, and recycling.
The table put Waitrose top, with the retailer reducing plastic by 60 per cent and having a 60 per cent adoption of reusables. It has committed to a 78 per cent reduction overall.
Aldi, M&S and Lidl came second, third and fourth, followed by Sainsbury's, Tesco and Asda. The Co-op and Morrisons were eighth and ninth, with Iceland propping up the table with just a 22 per cent reduction in plastic, 19 per cent commitment to reuse and 11 per cent recycling.
M&S has reduced plastic the most, at 67 per cent, with Morrisons the least at 9 per cent.
Overall, Greenpeace said supermarkets aren't doing enough to reduce plastic. In 2019, UK supermarkets produced 896,853 tonnes of plastic packaging, a slight decrease from 2018, but 'way off the progress that our planet really needs, and certainly nothing to shout about'.
Covid-19 has had an impact on progress towards packaging reduction, according to the report, with panic buying, increased demand and supply chain issues forcing retailers to loosen packaging requirements. Supermarkets also reported a drop in sales of loose fruit and veg at first, but things are now returning to normal.
Of coming top of the table, James Bailey, Waitrose executive director, said: "We are pleased that Greenpeace's league table has recognised our efforts to decrease our plastic packaging and pioneer unpacked shopping, but we realise there's more to do. We know this remains as important to our customers as it does to us so we have continued to explore ways we can do more.'