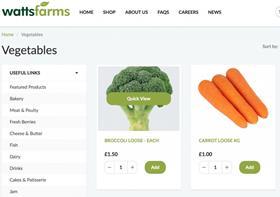 How do you save a 70-year-old family business that can't sell to hundreds of its commercial customers? Build a new website, link online sales to logistics and switch to home deliveries.
This is what fresh produce supplier Watts Farms did after coronavirus lockdown left it with warehouses full of food and drink at its 10 sites across Kent, Essex and Bedfordshire.
When Boris Johnson ordered all restaurants, pubs, cafes, bars, hotels and schools to close towards the end of March, the food service industry ground to a halt.
Watts Farms – which supplies over 500 restaurants and a range of wholesalers, as well as the major retailers and the NHS – was left with a £400,000 stockpile of food that was in danger of simply going to waste, putting 150 jobs at risk.
The supplier needed to act fast, so they turned to Kent-based web designers Kayo and asked for a new site so that,like other catering suppliers, they could launch online home deliveries.
While the website was being built – in just one week – Watts Farms was working on delivery logistics, using their vans and staff for home deliveries rather than commercial ones. The new site links their e-commerce and logistics, ensuring full automation.
Kayo's managing director Richard Pilton said: 'Currently, the large companies are monopolising online sales because they have the ability to sell online and deliver. We wanted to give smaller businesses the opportunity to do just that and open again.'
Now, a month after thinking their family business might be facing collapse, 14,000 orders have been taken via the website, which sells fruit and vegetables alongside a range of other products including meat, fish, dairy, snacks and other dried goods.

Jobs were secured, the initial £400,00 stockpile was saved, and more produce has since been ordered in and sold. Online sales are now the supplier's sole route to market with 2,000 orders taken in the first fortnight, worth £100,000.
Customers have included local people within 35 miles of Watts Farms' depot in Aylesford, Kent that are unable or unwilling to go to the supermarket, as well assupermarkets with higher demands.
The sudden diversification has opened up a whole new market for the company, which it says will be taken forward after lockdown alongside its commercial business.
Since working with Watts Farms, Kayo has joined forces with Cambridgeshire-based logistics firm Alan Firmin to offer a logistics service to clients.
'After working with Watts Farms, we realised that some businesses needed not only a website, but logistics too," said Pilton. "We're in unprecedented times where some companies are being forced to be storage companies due to them being unable to sell or deliver their goods. This needed to change.
'We spoke with logistics experts Alan Firmin to see if it was possible and we are now able to offer websites with a click-and-delivery system in place, online store, payment gateway and fully accessible on mobile, tablet or desktop.We can provide an app alongside it too.'