Compliance and sustainability consultant Jim Jefcoate considers the multiple reasons why the British market has fallen out of favour with some European exporters of wholehead fruit and vegetables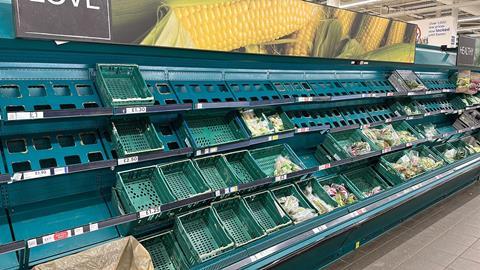 This year's supermarket shortages of wholehead (not prepared or processed) produce, particularly fresh salad items, highlighted the fact that the UK is no longer the destination of choice that it was 25 years ago.
The primary cause of this particular incident that has exposed our increasingly fragile supply chains has been a combination of weather conditions in Morocco and southern Spain that has created the 'perfect procurement storm'.
However, there are a number of other underlying factors that left the UK's big brands (manufacturers and retailers) more exposed than their European counterparts.
Firstly, inflexible buying programmes were cited as a factor in a time of shortage. However, there is a flipside to this coin. When supply exceeds demand, which it invariably does, seasonal or multi-seasonal programmes (or contracts) are preferrable for the suppliers and growers as they mitigate their risk and allow greater confidence to reinvest.
Secondly, the declining pound has pushed the UK down the league table of preferred markets. Since the millennium the pound has been steadily devaluing against the Euro. It has devalued by 22 per cent since 2015 and by 39 per cent since 2000.
Thirdly, European haulage costs to the UK have increased in relative terms since we left the customs union, largely down to empty trailers on return journeys. It is difficult to get exact figures, but two different media quotes in 2021 from the Road Haulage Association estimate that the level of empty lorries has risen from 18 per cent to 65 per cent. The number of lorries returning empty in 2023 will probably have reduced, but still provides a significant barrier to trade.
Last but not least, the UK has become an ever-higher-maintenance market to supply. There are significant costs associated with compliance that have been growing almost exponentially over the last 25 years.
This can be attributed to two factors. Firstly, the fact that the food safety standards with which produce packhouses must comply overstate the risk that wholehead produce presents. This results in costly yet largely excessive controls being implemented.
Secondly, there is a plethora of data being generated by produce suppliers due to operational and customer requirements but a dearth of interfacing between these datasets. If there were better connectivity, a more 'fit for purpose' due diligence defence could be created while mitigating duplication of effort to, in turn, lighten the administration burden.
Increasing domestic production is a potential answer to the UK's declining appeal as a destination market, but it is unlikely to happen while energy costs are so high. Moreover, boosting UK production is only a prospect in certain categories such as salads and maybe fruits (for example apples) over the medium term. Even with climate change, it will be a long time before we see meaningful domestic production of citrus, melons, or grapes.
So, we shall remain dependent on imports and must consider how the UK market can become lower maintenance to improve its exporter appeal. The challenge for the wholehead produce industry is to ensure that the big brands are properly protected, while at the same time simplifying the compliance complexity.
Jim Jefcoate is an expert in simplifying the complexity of compliance and sustainability in fresh food supply chains. He is a director in three businesses: supply chain specialist Hurdletree Associates, environmental start-up Selvador, and quality and food safety consultancy Food Experts Solutions. In addition, he has a non-executive director position at investment company MurexCo Group and recently became an independent director at Saudi Arabia's NEOM Food Company.