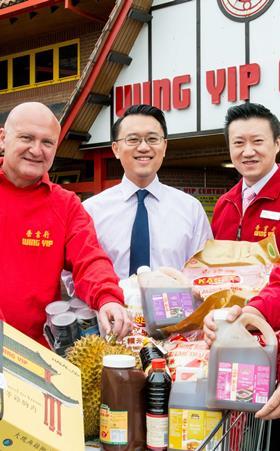 The unmistakeable smell of fresh wholehead durian fruit pervades the produce aisles at specialist Chinese retailer Wing Yip, in Croydon, south London.
Imported from Thailand through a specialist Asian distributor based in the UK, store director Albert Yip describes how customers must continue to ripen the durian at home, in a garage he suggests, and proudly asks, where else could you buy this?
The store prides itself on offering niche Asian fruit and vegetable lines, never seen in major retailers and rarely even in the street markets, to cater for the growing Asian foodservice sector and its ever-more adventurous consumer base.
Offering both retail and wholesale grocery formats across a total of around 120 fresh produce SKUs, Wing Yip's bulk lines focus on staples for Chinese takeaway outlets such as mushrooms, beansprouts, spring onions, peppers and cucumbers. On the retail side, there is barely any crossover with mainstream retail produce – among the rainbow of exotic produce, barely any of which I recognise, aubergine peas sit alongside rows of fresh pak choi, bitter melon, banana leaves, galangal, green papayas, rambutans, and the wholehead durian.
Produce is both locally-produced (beansprouts are grown hydroponically on north London industrial estate Park Royal) and imported via a specialist distributor from a range of Asian and European countries. Two fresh produce category directors manage two deliveries a week – one at the tail end of the week ahead of caterers' weekend surge, and a top-up delivery at the start of the week.
Aside from its niche produce offering, scaled into a multi-million pound business, Wing Yip's retail model is also something of an anomaly, taking the concept of a one-stop shop to a whole new level.
Each of the group's four stores has an attached 'business centre', which houses a selection of Asian restaurants, hairdressers, printers and post offices, travel operators, beauticians, and at the Croydon store I visit, there is even an accountant. The idea is that caterers visit Wing Yip at the weekend with their families, do their shopping for the week, print any menus or leaflets, tick off the rest of their admin list and then refuel on dim sum at one of the restaurants.
It's a clever retail strategy and one that taps in the traditional culture of the often family-run Asian food outlets that make up Wing Yip's customer base. The eponymous Wing Yip founder, Mr Wing Yip OBE, got the idea during a trip to America where he saw the success of destination-style shopping malls, and it is also akin to the Tesco Extra models, although that is where the comparison with major retailers stops.
Because Wing Yip's other point of difference is its growing retail sales, a phenomenon in current UK grocery, and something Yip credits to the store's niche offering, and the growing demand for international cuisine.
He explains: "Last year the wider group turned over £100 million for the second time, and we are currently seeing three to four per cent growth year on year.
"It is good but we could be doing better. There are still customers out there who don't know about Wing Yip. The other day I met an 80-year-old couple in the store who have lived round the corner for years, and it was their first time.
"Our customer base has now expanded to a wide range of nationalities – if you look in the store today there are Chinese, Indians, Europeans, eastern Europeans. It is a lot more varied."
And the expanding customer base adds to an already solid platform of Chinese foodservice restaurants. "Our biggest produce lines are vegetables – the Chinese always have a vegetable dish with a meal, so that's quite important," adds Yip, who began his career in the pharmaceutical industry before "washing up" in the family business. "We don't do much salad as there is little demand among oriental customers. If anything it would be a vermicelli-based salad, with pickled vegetables or cucumbers."
The group already has its sights set on future growth – the Croydon store is on the brink of a two-year expansion and refurbishment, which will expand the retail side of the store and move the wholesale operation to a purpose-built facility at the back. Meanwhile, a site in Cardiff has been earmarked for future development, although Yip stresses that the company's ethos is to "get the most out of each store", with long-term training in place for staff, and the associated businesses on the same complex driving footfall through to the main store.
The group has four stores in total – the headquarters in Birmingham, and superstores in Manchester, Cricklewood in north London, and Croydon, which serves south London and across the east of England as far as Hastings.
With a successful retail model in place and growing sales, supply is one of the biggest challenges the business faces. Yip says: "We try and work hard with suppliers to get the volumes we need, and ensure they are on time. We are going to increase our offering on the retail side – it's quite amazing how things have moved on, people will eat much more spicy food now, their tastes have really expanded."