UK manufacturing and reuse show a large uplift according to the results of a new survey
The manufacturing and reuse of timber pallets has increased significantly according to the most recent survey commissioned by the Timber Packaging & Pallet Confederation (Timcon) and the research arm of the Forestry Commission, Forest Research.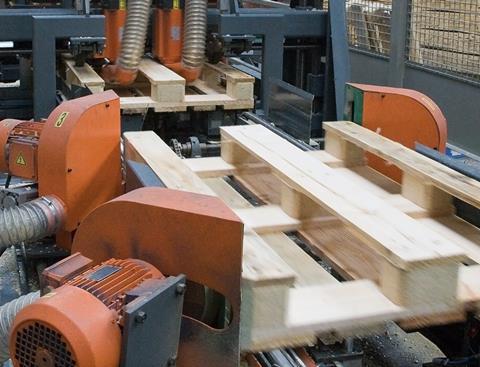 The UK Wood Pallets & Packaging Market survey showed that UK manufacturers produced an estimated 48.6m in 2021, up 8.3 per cent from 44.9m the previous year.
These manufacturers repaired and sold on for reuse a further 16.2m pallets, up from 15.6m in 2020.
Overall, pallet repair was down slightly, at 48.1m, compared with 49m the year before.
The annual survey is based on a questionnaire answered by Timcon members, who manufacture approximately 80 per cent of the 50m new pallets produced in the UK every year.
"It is encouraging to see that this report shows a substantial uplift in the number of new pallets manufactured," said Timcon president John Dye.
"While there was a small drop in the reported number of pallets inspected and repaired, this number is still similar to the number of new pallets – and I would expect to see it start to rise again in the months ahead, and also be boosted by the formal implementation of the UK government's eagerly awaited reuse incentive in 2025."
Dye added that the manufacturing increase has led to corresponding growth in sawmilling output into the pallet and packaging sector of around 13 per cent, to 1.61m3.
He also noted that employment in the pallet and packaging industry had risen to 4,221, a year-on-year increase of 23 per cent.