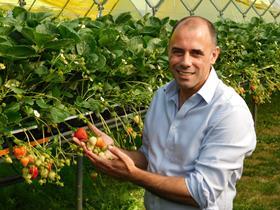 Yara UK and NIAB EMR have teamed up to help create new irrigation technologies for growers.
The agreement sees the two sides working together to share and develop research, with the alliance beginning in the UKand focusing on developing high-performance irrigation and moisture-sensing technologies in commercial horticulture, before later extending internationally.
As part of the partnership, Yara UK will be undertaking sample testing for The Water Efficient Technologies (WET)Centre, before building on that research with NIAB EMR and The WET Centre partners. It is described as the first of a possible series of future research collaborations between Yara UK and NIAB EMR, and ultimately its parent company NIAB.
The Water Efficient Technologies (WET) Centre,managed by NIAB EMR in collaboration with a number of commercial partners with further support from AHDB and LEAF,opened in July 2017. The centre aims to reduce the amount of water and fertiliser needed to grow high-quality, full-flavoured fruit, while simultaneously optimising marketable yield and berry quality. Although The WET Centre's current focus is on soft fruit, there is said to be potential to improve irrigation performance for other crops in the future.
Professor Mario Caccamo, managing director of NIAB EMR, said: "We warmly welcome Yara UK as a partner in The WET Centre, joining a successful innovative project dedicated to improving resource use efficiency and crop productivity in soft-fruit crops. We see this as a first step in the development of future collaborations between Yara UK and NIAB, focused on developing and sharing national and international crop research opportunities."
Yara's Giz Gaskin cited Kenya as an example of where shared goals could align."NIAB EMR is currently working with Kenyan growers on developing fertigation for the production of beans,"he said."Yara Kenya has recently put a focus on supporting growers with fertigation solutions expected to increase crop productivity and quality. The two share an identical goal in supporting Kenyan growers - working together would benefit local communities, the environment, Yara, NIAB EMR and, ultimately, the growers themselves."