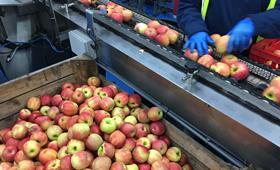 Crop estimates for Australia's 2021 apple and pear crop remain uncertain with the availability of labour set to influence the success of the season.
In an industry update Philip Turnbull, chief executive of Apple and Pear Australia (APAL), outlined the labour challenges the industry faced this season and their potential effects.
With harvest now underway across Australia, Turnbull said there had already been reports of difficulties in securing a sizable and sustainable labour force.
"These reports paint a grim picture and speak to the long road ahead for orchard owners and managers involved in the recruitment, management and retention of harvest labour," Turnbull said.
While there are efforts underway to bolster the available labour, such as Pacific Islander worker programmes, Turnbull said these will only fill a portion of the shortage and growers fear it may be "too little, too late".
Turnbull said although there are concerns of a smaller than expected crop because of the labour issues, it may also deliver higher-quality fruit to consumers.
"Until the crop is picked there is absolutely no certainty regarding the volumes of apples and pears that will be available to retailers and consumers across 2021 and early 2022," Turnbull explained.
"Labour shortages have forced our industry to prioritise quality over volume will see Australian consumers enjoying some of the best fruit ever – there just won't be much of it and will quite literally be the fruit of hard labour that began months ago."