Industry and Hort Innovation collaborate on programme designed to push export sales past A$1bn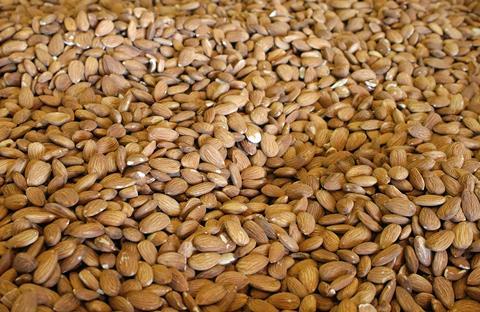 As international demand for Australian almonds continues to grow A$7m has been allocated to a new project designed to fuel export growth.
The Australian almond industry is gearing up for further expansion after achieving 118 per cent growth in exports over the past decade with volumes increasing from 52,795 tonnes in 2013 to 115,049 tonnes in 2022.
The new programme – delivered through Hort Innovation and led by the Almond Board of Australia aims to increase almond exports by at least 50,000 tonnes over the next three years and push export sales beyond A$1bn.
Hort Innovation chief executive officer Brett Fifield said this investment represents the almond industry's strongest international presence yet.
"Trade development programmes are a key tool to grow demand for Australian produce in international markets," he said. "This A$7m programme will take the almond industry's exports to the next level."
"The almond industry has already seen significant growth in their export figures over the past 20 years, and this investment clearly signals that they are not slowing down anytime soon."
The programme will support the almond industry in its export ambitions through a range of market access and development activities such as participation in trade shows and missions, educational messaging about health benefits and engagement with key trade stakeholders.
Almond Board of Australia chief executive Tim Jackson said the almond industry is preparing for the future.
"The Almond Board of Australia has led the industry's market access and trade development activities for more than two decades and we are ready for the challenge of expanding our export growth," Jackson said.
"The almond industry has grown production from 7,000 tonnes in 2002/3 to more than 142,805 in the 2022/3 season. Following the past five years of planting, the production of Australian almonds is forecast to reach 200,000 tonnes by 2025. Total shipments will need to grow by at least 50,000 tonnes to meet the supply growth of industry – which is what this programme is here to do."
Brendan Sidhu, an almond grower from the Riverland of South Australia and long serving Almond Board of Australia director said that developing new, emerging and existing markets continues to be a core priority for the industry.
"With a significant increase in plantings over the past five years, growers such as myself are looking to our marketers to maximise the return to growers by seeking out the most lucrative markets," Sidhu said.
"Our previous industry trade programme has been a pioneer in developing markets in more than 50 countries, so we look forward to building on that track record with the new programme."